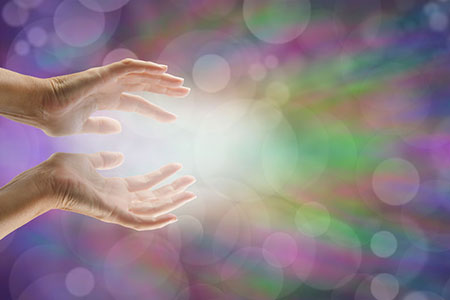 Color is a bridge between the spiritual and physical and can have powerful impact upon our emotions and well-being. We all have colors that are our favorites, that we use personally, and in our homes, to create a sense of joy, beauty, relaxation or passion and excitement.
There are many applications for specific colors in various spiritual pursuits and practices. Various meanings are also applied according to cultural beliefs. The Chakras, for instance, are identified by color, as well as their location in the body. Chakra therapy usually also encourages the visualization of colors, while focusing on specific charkas.
Spiritually, color can impart both information, as in the reading of aura colors, and energy, as in healing. The aura is the energy field surrounding living beings which is 'visible' to those who are clairvoyantly sensitive.
Color therapy, or chromopathy, is becoming a very popular alternative therapy. The principle of color therapy is that different colors carry different energy frequencies, and therefore they can be used to address specific concerns. Studies have shown that color can affect mood, heart rate, alertness, and impulsivity, to name but a few.
Certain colors tend to have significant spiritual therapeutic properties, and science has recognized the impact of these same colors on the brain and emotions. Green, blue, yellow and red are examples.