Spiritual Adjustment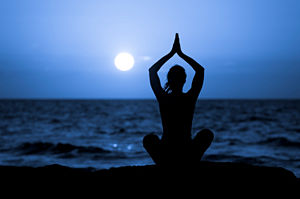 Sometimes we need a spiritual adjustment or 'tune up'. It is like going to the chiropractor to 'get the kinks out' of our physical body, so that we can move more smoothly without pain and greater mobility.
I get my spiritual adjustment through prayer. I can tell when I need to open my heart chakra and bring in greater compassion or patience – whatever I may need to be a part of the greater good and connected to the Light.
I usually get down and my knees to pray. I ask for healing when I do the opening and closing of the chakras, and I meditate at a deep level to bring healing and a deeper connection to what brings us all together and connects us – love!
So if you are feeling the lack of love in your life, or lack of caring for your fellow man, perhaps you need a spiritual adjustment. It's cheaper than a 70 dollar visit to the chiropractor – it's free! All you do is spend time in quiet to hear that voice directing you to greater good and telling you what you need to do in order to achieve this. Sometimes it's nothing but being. Just being. Enjoying the present and not feeling like you have to go and do, as that will only bring chaos half the time.
Prayer is communication with the Divine.  It can be whispered or chanted or written or expressed in the work you do.  However it is expressed, it is never in vain ~ Donna Wilk Cardillo
We have a direct link to happiness, we just have to become quiet and pray and be still. Then we can open our eyes and see life is more colorful and meaningful. If we just take the time it's the most wonderful thing, and we do so little of it. We need to take more time and the world would maybe slow down, and we could then really experience heaven on earth.
If we could just open our hearts up more and let the energy flow. Energy currents flow out 4 to 5 feet from our being and we connect with one another that way. When we run into that person we have been thinking about, it is because we are living in that higher state of consciousness where we put more meaning into love and how we treat our fellow man, instead of living for ourselves.
So, please get yourself a spiritual adjustment and enjoy your life more. It will help you to be calmer and healthier too. It's your birthright!
About The Author: Moon Goddess

Moon Goddess is a third generation empathic healer and seer. She started to give healing readings to people more than 20 years ago. She has always been interested and studied all things metaphysical from a young age. Being hypersensitive she can feel and see things before they happen. Utilizing the Tarot, and with the help of her Guides, she is a source of support for many people all over the world. After he passed over, her grandfather kept his promise and came back to say goodbye and gave her the most amazing experience. Moon knows there truly is a Heaven, and it is wonderful! Sharing her experience has helped many people after they have lost someone, or anyone experiencing some form of grief. Get a reading with Moon Goddess now at PsychicAccess.com.