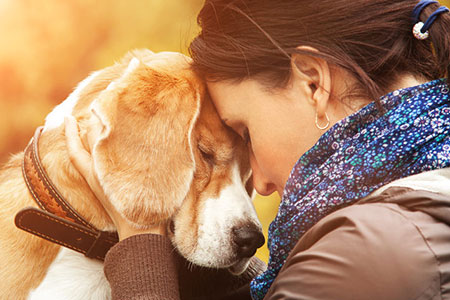 Our first family dog was a lovable, crazy beagle. She was the light of our lives and I adored her so much. She also reminded me of the power of intention and that miracles happen in our lives every day.
She was only six years old when she started showing signs of back discomfort. It was wrongly diagnosed and she was put on muscle relaxant medication, but it got worse. Eventually she could not move at all. That morning she screamed and was in so much pain, it was unbearable. I begged the vet to refer me to the specialty animal hospital.
I needed to do all I could to save her life. She was part our family and I couldn't imagine life without her. So, I rushed her to the city, once I got the referral. When I walked in, carrying her, she was seen immediately by a neurologist.  Thank God for him. He took one look at her and sedated her, as she was in so much pain. He then did a brain scan, to see what the problem was.
The magnetic resonance imaging (MRI) scan showed she had a herniated disc in her neck. The MRI also showed a piece of bone that had somehow broken off and had moved into a dangerous position. Fortunately, the vet said the cervical spine was the better place, rather than lower back, to have this kind of problem, as treatment and recovery in this area is more likely to be successful.
He did add, however, that the little piece that had broken off was too close to her spinal cord and had moved, so he could not get to it during surgery. He would have to leave it where it was, since he was not able to reach it. He said it may cause her some discomfort, but nothing more. He said it was possible it could shift over time, but hopefully would not cause more damage.
So, I said yes to the surgery. I just had to have faith.