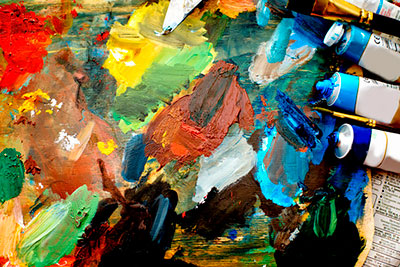 You get to choose which colors you like to have on the palette of your life – not what anyone else thinks you should have. It's okay to paint exactly as you wish, as all great artist do.  Color can empower you, color can uplift you, color can heal.
Embrace all your favorite colors, even the darker shades, including black. A lot of people fear the color black, but without the darkness of the shadows we cannot truly appreciate the light. I personally like the color black. It makes me feel good about myself. A few years ago I went to court for my divorce hearing. I had no lawyer; I chose to represent myself. I was wearing a black dress suit, with large, black leather purse. The judge took me seriously and granted all that I negotiated for. I give credit to my choice of wearing the color black. Read the rest of this entry »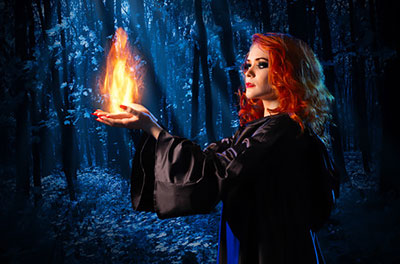 You don't have to be descended from wizards to become one yourself. Sometimes it will run in the family, but it's just as likely to show itself when a person is in the right place at the right time.
Wizards are spell casters who learn the art of magic or sorcery through research and learning. It's said you are not born a wizard, you become a wizard. You are born with the powers and mystical abilities that a wizard has, but to be a real wizard you have to become comfortable, skilled and not afraid to use those powers. Read the rest of this entry »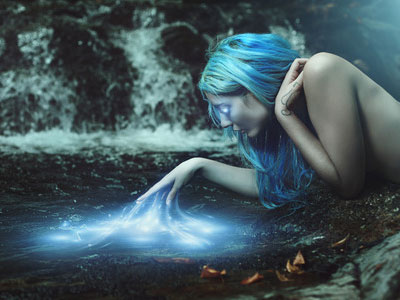 One of the quaintest concepts, that seemed to captivate imaginations around the turn of the 18th century, were the elements and their embodiments in the form of Elemental Spirits. These beings were the personification of the Classical elements of Earth, Water, Air and Fire.
In the Middle Ages, great attention was given to these four elements in terms of diagnosis, such as the Choleric being linked to the Earth, which would be thus be linked to Taurus. The Phlegmatic was linked to the water element, or Pisces, which often would diagnose lung disorders, thus the word origin for phlegm. Read the rest of this entry »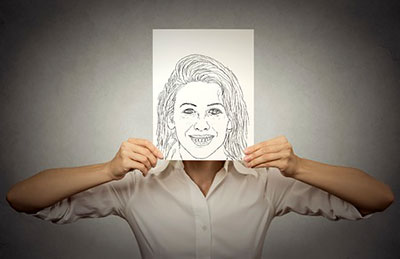 Perfection. When we are a ball of light on the Other Side, there is only one kind of perfection. But here on Earth, fluidity of movement, acceptance, surrender, flowing into change… this is perfection. Earth perfection is the ability to fully embrace, love, laugh at, and survive the roller-coaster ride we chose before we came here.
Many healers and therapists sell themselves, in part, by projecting a public image… and sadly, many of their followers are mostly attracted to only that image. Why is that? Perhaps the idea of having an 'ideal' allows people to kind of let themselves off the hook, by declaring, "Well, I can never be perfect like her!" Or maybe we just like the idea that somehow our idea of perfection really does exist. Read the rest of this entry »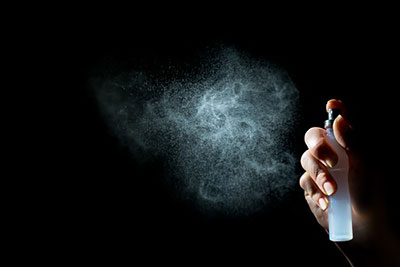 Remember the last time you changed out a dirty air filter from your air-conditioning unit, vacuum cleaner, or your car? Remember how clogged with dust it was?  In our living spaces, negative energies accumulate over time just like those 'dust bunnies.' Even though we can't see these energies, there is a way to clear them on a regular basis. Think of it as the spiritual version of house cleaning.
The first and most obvious step to take is to physically clean your space. Clutter and unwanted items work as repositories for negative energy, so it's important to get rid of it. After you're done, imagine the space being deep-cleaned with an indigo or violet-colored flame. Use this as a silent meditation, and picture the flames consuming all that invisible 'dust.' Read the rest of this entry »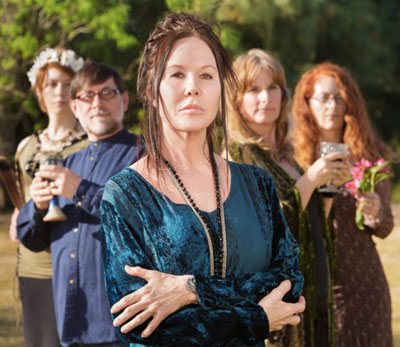 The modern stereotype of a witch is that she is an ugly, old woman with a hooked nose and pointed hat, riding a broomstick or stirring up a witches brew in a huge pot. In truth a witch is someone who practices magic as part of their religion or spiritual belief system, such as Wicca or Neo-paganism.
Witches worship nature and love the Earth; they do not worship Satan. That is a myth, just as much as the idea that witches are ugly and scary. Witches are beautiful and do no harm. They believe in the rule of three, understanding that everything we do comes back to us threefold.
The more we destroy the Earth, the more we destroy ourselves. A witch's purpose is to save the Earth. Witches relish their wild nature and align themselves with the cycles of the earth and the phases of the Moon and the stars. Read the rest of this entry »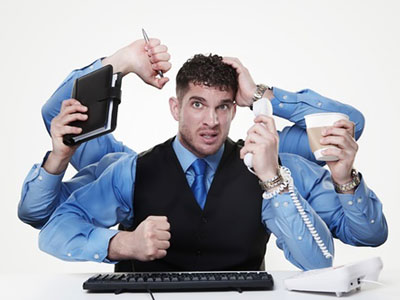 The fear of missing out, or FOMO, can cause a constant obsession with anything, and everything – whether it's work, the news, or social media. And it can burn us out – physically, mentally and emotionally. It can actually compromise our adrenals, stress us out, scatter us mentally, and emotionally cause sadness, or even depression. We were not designed to live this way.
If we don't unplug, take timeouts during our day, have an entire day of restoring ourselves, or actually take a vacation to unplug, we lose perspective of the great mystery that is life. We also sacrifice our freedom.
The most important spiritual benefit of taking time out is that our intuition becomes sharper. We don't miss out on the messages our Guides, Angels, our Loved Ones on the other side, and the Divine may have for us. Yes, we have asked for their help, but for them it's like t getting a busy signal on a phone line. They can't get their message through to us. Read the rest of this entry »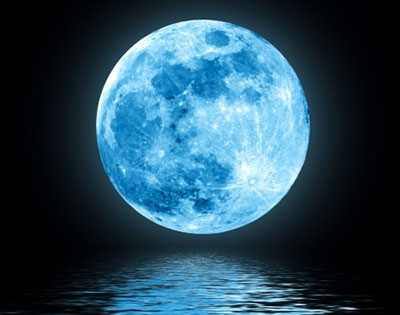 Today's full moon on July 19th is traditionally known as the Full Mead Moon in Germany.
Long, long ago, God of wisdom, poetry and war, Odin, made a decision to send a younger God, Mani, to the skies. Mani was a very handsome God and his duty was to drive the chariot and fill the dark night skies with light.
Odin collected all things wasted on Earth and sent them with Mani. He collected misspent time and broken vows, abandoned friends and squandered wealth.
Every night Mani's chariot was filled to the brim with unanswered prayers and wasted talent, unfulfilled promises and favors. He also carried the hearts of the ones who did not love, and the memories of the ones who did not care to remember.
Mani took two children with him too, a blonde boy named Hyuki, and his sister called Bil. But this was not Odin's original plan. Read the rest of this entry »