Crystal Singing Bowls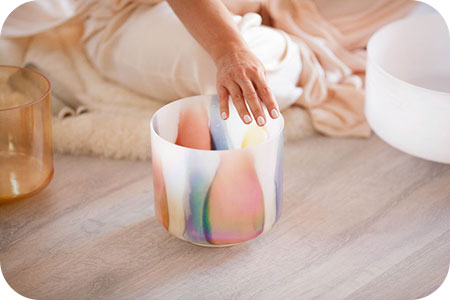 Crystal singing bowls, not to be confused with their similar cousins Tibetan prayer bowls, are made from various kinds of quartz crystal, or fossilized water. If one considers that a large percentage of our bodies also consist of water, it's easy to see why crystal bowls can create a deeper resonance within us, compared to bowls made from other materials.
In our busy world it's easy to ignore pure, natural sound – which is one of many benefits of crystal singing bowls. Cultures around the world have known for millennia about the therapeutic properties of music, and more specifically, unique notes or tones. In some Hindu and Buddhist traditions it is believed that the Universe begins and ends with the sacred sound Om.
Each crystal bowl is designed for a specific tone, which will in turn activate one of the seven chakras or energy centers. The note C-sharp, for example, is compatible with the crown chakra and adrenal system. If you are using your bowls to focus on specific chakra blockages, consider getting several different ones for each of the different notes you need. A good set for beginners is one containing seven bowls for the seven primary chakras.
You may have encountered crystal bowls in locations such as a Yoga studio, or your massage therapist's office, designed for relaxation. Again, it's no accident. Once you start hearing these pure, resonant sounds, it's almost impossible not to relax and be transported.
Quartz is a vibrational transmitter. It is used as a transmitter in almost all of our technologies. It carries the vibrational consciousness of the metal or the mineral or the crystal into our cellular knowing. We're water. We are a perfect receptor for this kind of information ~ Beverley Wilson
The composite crystal of each bowl also brings its own unique healing properties. This is part of what makes bowl therapy so powerful. It combines the energies of crystal (our bodies at their core have a crystalline structure), sound, and meditative thought. In the best possible way, we are changing the way we think.
When beginning your new practice, the best place to start, as always, is with an open mind. Crystal singing bowls can help expand your thought process, while relaxing your body and spirit. You may consider listening to a guided meditation track when first starting out. An experienced teacher can also help with the usage of each bowl and its unique properties. Don't be afraid to ask for help, or try a different bowl if the ones you have aren't working for you. No two bowls have exactly the same properties, and neither do two people. If you don't want to purchase a bowl right away, you might try a group class, or a live demonstration.
Sound is powerful energy that affects us on a cellular level. Using crystal singing bowls will allow us to remove blockages in the chakras and take your meditation practice to higher levels. On a purely aesthetic level, the bowls themselves produce beautiful music that will soothe you. It's also possible to use bowl therapy in addition to an existing meditative practice. Find what works best for you. Using the vibrations from crystal heals one at the core of your existence and it's an investment worth making in so many ways!

About The Author: Mystic Shelley

Mystic Shelley is a Psychic Medium. She has been reading for over 15 years helping and guiding people. She uses my 8 spirit Guides during her readings. She reads in the area of love, relationships, career, money and all matters of love. She will give you only honest and direct answers. Get a reading with Mystic Shelley now at PsychicAccess.com