The Miracle Power Of Music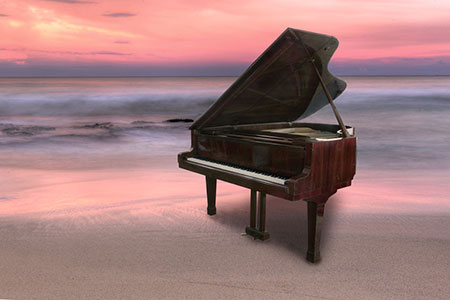 Last night, my friends and I went out to see a performance by the blues artist, Shemeka Copeland. What a great show that lady put on! The music made the audience feel the love and joy, young and old alike, happily singing along and feeling the vibes.
Looking around me, I saw many people with smiling faces moving to the beat, doing the chair dance, clapping hands and happy feet. People of all walks of life came together as a community, any and all differences forgotten, because of a shared love of the music. The miracle of music!
All living things respond to sound. It's the vibes that just touch us, because music is after all nothing more than vibration. Music has been known to inspire, soothe, calm and heal. I have heard, for example, of a group of harpists who play at hospitals for the benefit of patients.
When my daughter was young she said to me, "Momma, if the teachers only had music playing in class, all the kids would pay attention and understand what they were teaching." On the flip side my parents always said, "Turn that music off!" How can you study, learn and remember what you are reading with that music on, they asked.
Uloop News columnist and editor, Elana Goodwin, writes that research has shown "listening to music before studying or performing a task can be beneficial as it improves attention, memory, and even your ability to do mental math, as well as helping lessen depression and anxiety."
Music is well said to be the speech of Angels. In fact, nothing among the utterances allowed to man is felt to be so Divine. It brings us near to the infinite ~ Thomas Carlyle
When my first granddaughter was born a premature, I was worried about her further development. While researching how to help, I heard about the 'Mozart Effect' for baby's brain development. My daughter was immediately on board with this idea, because of her owns belief that music can be a cure all. The Mozart Effect is a widely held belief that playing music by this famous Austrian composer for unborn children can stimulate their intelligence. Surely, if it works for a pre-birth baby, then it must have a similar effect on a premature newborn? There are people that believe this to be true and people that don't. I can only speak for myself, and today my granddaughters are highly intelligent, beautiful, productive and wonderful human beings.
Another thought: most spiritual events, rituals and ceremonies begin and end with music. Almost all modes of transportation provide some way of listening to music. Most long-haul truckers sing to music to help stay alert while driving mountainous miles. Elevator music is played to help produce a calm atmosphere. Music really does work all kinds of magic in our daily lives.
The human voice is the earliest instrument known. The human voice has a wide verity of pitches. The voice does not require any other instrument to accompany it. This type of music is known as a capella, an Italian term which means "in chapel or choir style, without instrumental accompaniment." All human cultures have some form of vocal music or song.
I think music in itself is healing. It's an explosive expression of humanity. It's something we are all touched by. No matter what culture we're from, everyone loves music ~ Billy Joel 
Music also jogs the memory when you hear a certain song from your past. It can bring your mind right back to an event, place, feeling or moment in the past. My mother used to sing an old Tin Pan Alley song from her youth called, By The Light Of The Silvery Moon, published in 1909 by Gus Edwards and Edward Madden. It was one of the first songs I ever learned.
In my youth the Sunday afternoon car ride 'to nowhere' was family time. Each person had to sing their favorite song. I like to think of that time in my life as 'memory food' for my soul. Whenever I hear that song, I know my mother is present. So, enjoy the music. It's just plain good for your soul.

About The Author: Elizabeth

Elizabeth's talents go back several generations. She found her own gifts and embraced them at an early age, recognizing the difference between herself and most others around her. She's since honed and mastered many metaphysical practices, providing hypnotherapy, Psychic Mediumship, Mysticism, and Hypno-Reiki to her clients in Maine, and in areas around the US and in Canada, where she travels. A lover of pets, they are her greatest teachers and these unconditionally loving creatures often chime in on a reading in addition to the Angels, Guides and loved ones who provide resolution and answers for each of her clients. Elizabeth is also an author with much spiritual wisdom to impart and is currently working on a book. If you'd like to be a recipient of her unique Psychic Wisdom, find peace and receive answers that will also benefit your highest good, you can reach Elizabeth at Psychic Access.