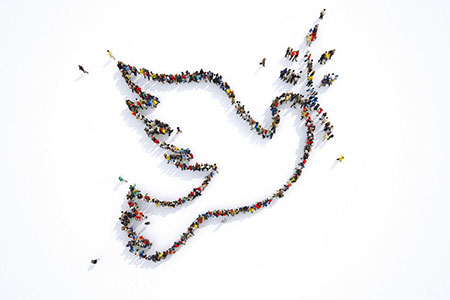 There will always be moments in life when we have to choose between peace or conflict. This was the case for me just yesterday.
About half an hour prior to the incident, I had taken my dogs for a walk in the countryside surrounding my home. Adjacent to the pathway we walked, there were a few men working in the field. I didn't actually see them, but their car was parked up close by, and what I assumed was their lunch had been perched in a plastic bag in one of the olive trees.
Knowing that the curiosity of my dogs would be stirred by that bag of food, I kept a beady eye on them, particularly the two that were off-leash. Thankfully, the only thing my youngest dog appeared to be interested in was someone else's medium-sized dog that was also in the vicinity of the workman's feast. I'd assumed that this dog was with the workers, but on taking the same route this morning, I realized that he belongs to the actual farm there.
So, yesterday, after the walk, I was outside my house, when the worker's car pulled up to my fence. Two young men got out and one of them asked, "Why did you allow your dogs to steal the old man's bocadillo (a sandwich made with Spanish bread)?"
"They didn't steal it?" I replied.
"Oh, but they did," he said. "My friend here saw it happen!"
I took a moment and thought about how to handle this situation in the most peaceful and spiritually aware manner. It wasn't such a big deal, but obviously the old man felt that he had been robbed.