Don't Resist Change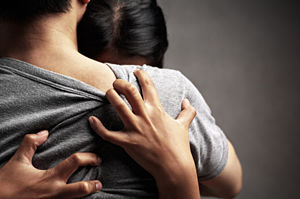 Don't resist change – even in love. Change is good, even if it seems like it may be the death of a relationship. Trust me, sometimes the door on a relationship needs to be shut, so that another door can opened up later on or down the road.
I have seen it in my own personal relationships and in those of my clients and loved ones. If it's meant to be, and true love resides between two souls, there really is never a permanent goodbye. Rest assured there will be other opportunities for your loved one to return to you, or for you to return back to your loved one.
We all experience the pain of saying goodbye to someone whom we love very much. It really puts a damper on how we view life, to have to find closure or shut the door on a loved one, especially if we don't want the relationship to end. But if we handle it in a way that we know that the person will return, we just have to do this very hard thing right now in saying goodbye, as this will help to start a new beginning later on. No matter how hard we try and hang on, it will only make it more difficult to bring healing to the area of the relationship that needs healing.
If you love someone, set them free. If they come back they're yours; if they don't they never were ~Richard Bach
It's in letting go that sometimes love does return, as they say. If it's true love it will return and it often does. Letting go shows the person we love that we care enough about them set them free. It also shows that we are strong. No one likes a 'needy' person; it shows weakness, low self-worth and that is very unattractive, no matter how you look at it.
Sometimes our emotions are what keeps us from achieving our relationship goals and we need to master our anxiety, tension, worry and fear. Only then we can truly keep and have a long lasting relationship.
It's all about an inner knowing and having faith to go with the ebb and flow, and keep putting on our happy faces even when things don't go our own way. We don't have to control everything. Sometimes it's just allowing things to happen. There are real surprises to be found in just letting it be!

About The Author: Moon Goddess

Moon Goddess is a third generation empathic healer and seer. She started to give healing readings to people more than 20 years ago. She has always been interested and studied all things metaphysical from a young age. Being hypersensitive she can feel and see things before they happen. Utilizing the Tarot, and with the help of her Guides, she is a source of support for many people all over the world. After he passed over, her grandfather kept his promise and came back to say goodbye and gave her the most amazing experience. Moon knows there truly is a Heaven, and it is wonderful! Sharing her experience has helped many people after they have lost someone, or anyone experiencing some form of grief. Get a reading with Moon Goddess now at PsychicAccess.com.