Celtic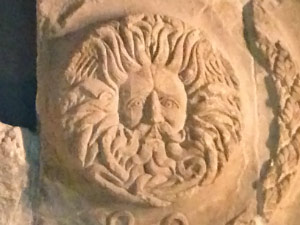 The host at Burghope Manor country inn in Bradford-on-Avon, England, is a very wise man. He has seen many travelers come and go over the years, and obviously knows what is best for each of them.
When I told him I had downloaded an audio tour on my iPod, from the local tourism website, and was going to do a "Jane Austen walk" through the historic town of Bath, he gave me a skeptical look like only the British can and said, "You might want to stop by the Roman Baths first. It is a must-see, but go there early in the morning, before the tour groups arrive from London."
Well, who am I to argue with such a determined a messenger of the Universe?
Arriving at the Roman Baths Museum, I was planning to have a quick 30 minute browse around and then go off in pursuit of the famous Ms Austen's favorite haunts. Well, what is usually a 90 minute visit for most to the baths, if you use the museum's audio guide, became for me a four hour metaphysical adventure. Continue reading →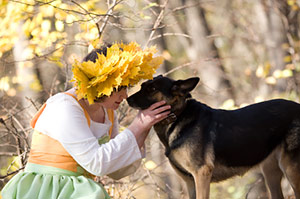 The cat isn't the only domestic pet with a history of thousands of years of myth and legend. The dog, "man's best friend," is also the subject of many magical tales throughout the world.
Like the cat, dogs were companions to the ancients. In Egypt he was represented by the god Anubis and resembled today's modern greyhound. In Greece, he was sacred to the goddess Artemis, who ruled the woods and the hunt. A massive three-headed monster dog, Cerberus, guarded the Greek underworld and was later captured by the hero Heracles in one of his twelve labors. The brightest star in the night sky, Sirius, is called "The Dog Star" and is a representation of the dark goddess Hekate. Continue reading →