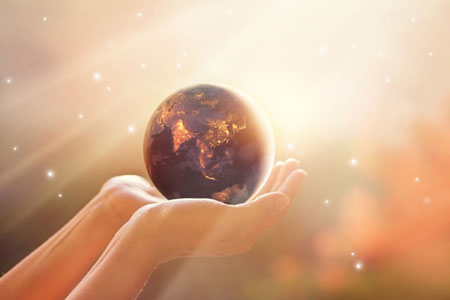 There's a spiritual emergence happening this year. The year 2020 brings subtle energy shifts that will propel us forward toward our soul-aligned desires.
This year has a higher vibration that holds tremendous potential for us to reach our dreams by first changing from within. For once we begin to exist in a way that the universe blesses, we will witness divine forces complement our inner-directed changes by manifesting it externally.
Simply put, 2020 will be a year of supported growth and great ascension. What is more, believing in this gateway to enlightenment will be the key to unlocking your personal power.
As we are all co-creators of our reality, we may have inadvertently created an existence that simply goes against the grain, and stifles our prosperity. This is due to outer influences, karmic blocks and limiting beliefs imposed on us through our many experiences on this Earth.
Fortunately, anything obstructive can no longer survive in the emerging 2020 rebirth, whether  it is a career, relationship or social structure. All that no longer serves us, must begin to crumble away this year, and we must allow its fall, so that harmony and fulfillment can enter our lives.
With that it's time to loosen the reigns and worry less about getting an external grip. No need to force matters, or control people or situations this year. You only need to resolve to take care of yourself. This extra dimensional dynamism offers a paved path to increase your capacity to live a life that is in alignment with who you authentically are, by elevating your awareness.