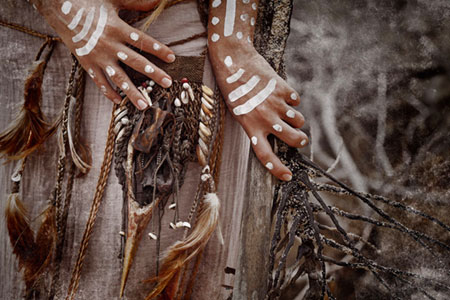 Those of us who are metaphysically inclined often believe in the power of carrying a sacred object, symbolic item, or 'totem.' The totem is worn or kept on one's person for various purposes, including healing, protection, guidance, or support.
This spiritual practice is known as Totemism. It is a system of belief in which humans are said to have a mystical relationship or kinship with a spirit-being, such as an animal, plant or symbolic object.
Believing in the power of a 'totem helper' gives one the kind of spiritual self-confidence that can make the difference between success and failure. Actually, I wear on my person a medicine bag in the Native American tradition, which contains various totems or 'alliances' I have found in nature.
Some of them were gifted to me, because they resonated with my energetic frequency and "wanted to be with me," as friends and fellow metaphysicians have stated through the years. It is our custom to save special things of this nature for gifting to each other, especially at sacred times of the year, such as when we celebrate the solstices.
Right now, I am surrounded by all of these charming personal offerings. There are the great horned owl feathers that were gifted to me, for example. I used it to make a prayer stick, that I now make use of during meditation, and sometimes also as an altar piece. In the tradition of Totemism, I consider it to be part of a living being, which is the altar. Indeed, every altar has its own 'being-ness,' the same as any other sacred deity.