My Catalyst Moment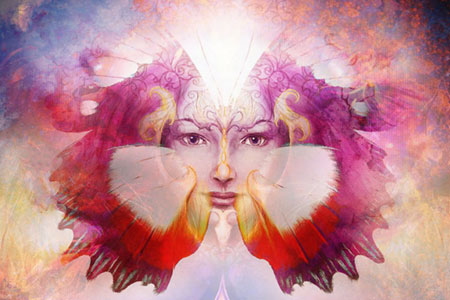 Over thirty years ago, I faced a major crossroads in my life, and it became a monumental turning point. It was the catalyst moment that ultimately led me into full-time service as a psychic oracle and healer. I did not choose this path – it chose me. And today, I am beyond grateful for this calling.
In those days I had just about everything you can imagine to make me 'happy.' I was a highly successful, special risk broker for a prominent insurance company in London. I was one of only two women at the time to hold that distinction. I also attracted and owned all of the opulent trappings of success that came with such a distinguished position – the material things and luxuries our culture teaches us is supposed to make us happy and fulfilled.
I was proud of my work and had plenty of interesting things to do every day, both socially and professionally. But there remained persistent doubts and questions. Is there something more? Why wasn't I satisfied? Why did I feel so restless and discontent?
You see, I knew, deep in my heart, I was not living the life that was calling me. And, boy, was it calling! It woke me up in the middle of the night. It created a lot of agitation and self-doubt. Why was I feeling this way? Is there something wrong with me? I even started questioning my sanity. I had everything I thought would make me happy. So, what was lacking? Why did I keep feeling that there was something missing? And, where would I find it?
Almost every significant breakthrough is the result of a courageous break with traditional ways of thinking ~ Stephen Covey
To further complicate matters, it got to the point that I could no longer ignore the fact that I was somehow very different from the people around me. I remember feeling weird, or maybe even crazy, knowing someone's name before I even met them. I also saw events before they happened. I could also empathically sense other's emotions and experiences. I often wondered, did everyone experience this? Did they maybe fear sharing it, like I did?
My spiritual awakening came in the form of a major life crisis and the realization that the old status quo would no longer work. My professional career started falling apart. As painful as it was, I realized this gave me a choice. I could fight to pull my glitzy life back together, or I could finally take that chance and pursue my spiritual and psychic calling. I could return to that place within, that has been there since my childhood, and which ignited my heart and lit a fire inside me!
Taking the leap of faith, instead of playing it safe, soon propelled me onto a completely different path. That moment made all the difference for me. It created new challenges and opportunities, to bring me to what I was truly meant to do. And here I am, 36 years later, using my gifts every day to assist, support and guide others in making their lives better and their dreams come true.
Sometimes when you are the closest to your breakthrough the pressure is the greatest. You have come too far to give up now! ~ Joyce Meyer
If you are experiencing a major transition in your life, and have questions that need answers. Or if you are wondering, what am I supposed to be doing in this life? Then I would be honored to share my insight through the gifts I have. I will assist you in opening and expanding who you are.
You too can uncover your true purpose and live your best life, just like I did. I have never taken that breakthrough moment for granted. It has allowed me to help, not only myself, but also hundreds of clients from all walks of life, all over the world. I have been privileged to help bring depth to many levels of who they are, and enrich their personal journeys. And I am grateful for the opportunity to continue sharing my catalyst moment in this way.

About The Author: Mountain Sage

For thirty-six years, Mountain Sage has been providing her much sought after insight, coaching and spiritual counseling to clients locally, as well as internationally. Many other psychics, spiritual counselors and healers, professionals, celebrities, and individuals of all backgrounds, have relied on her gifts to find their way through muddled times. Mountain Sage is the student of an exalted Gurugi in Bombay, and Shaman of the Fireheart Sweat Lodge in Santa Fe, New Mexico. Her extensive training includes Oracle, Healing, Universal Laws & Principles, the Sacred Circle and Psychic Shielding. She specializes in Ascended Masters, Altars, and Minerals. She holds the great honor of Oracle Carrier by her tribe due to her outstanding psychic ability, passion for the psychic realm, integrity and sacred work. She blends mystical understanding with practical application, and her art is connecting with the Divine. Get a psychic reading with Mountain Sage at PsychicAccess.com.