The Mysteries Of Ancestral Roots And Past Lifetimes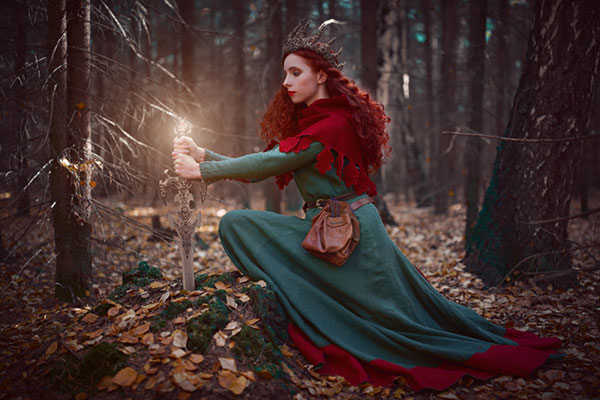 In readings spirit will often show me the regions and nationalities of a client's ancestry. For instance, if I see symbols of Scotland or Ireland, I will mention it to them, and they may already know that they have those regions in their bloodline, or they have always felt a strong resonance with that particular area.
I find this interesting, because it is often the case that a person's ancestry and family origins in this lifetime often also has a metaphysical connection to their past lives. I have had flashes during psychic readings of certain events and scenes from a client's past life in certain place, with the client then informing me that their ancestors in fact come from that area.
This made me ponder my own Celtic past lives and how this also happens to be where some of my ancestors originate from. This also brought me to think about our spirit guides and how they also tend to link to these ancestral regions. Ireland, for example, is a place that has always held a magical energy. Egypt is another place that generates very strong past life memory and associations for me.
I have also noticed that spirit often sends me people for past life readings who are also connected to these places and cultures. Wouldn't it be fantastic if I knew some of my current clients in those past lifetimes. And did we also engage in joint spiritual practices back then?
I have always found it intriguing why psychics tend to find some people incredibly easy to read for, and others not. Sometimes, I feel as is if I have known a new client for years, as if I recognize them from a former life, with no logical explanation.
Suddenly all my ancestors are behind me. Be still, they say. Watch and listen. You are the result of the love of thousands ~ Linda Hogan
Finally, this brings me to the esoteric notion that many different people could possibly be incarnations of just one archetype. Maybe many Cleopatras, Aphrodites, Merlins, and King Arthurs existed throughout the ages? We have limited written and verbal evidence of these myths and legends and the characters who played the roles in these stories. Yet, their magic continues to leave its mark on our collective consciousness.
Ancestral energy cannot be destroyed, only transformed. I cannot help but wonder how the complex assortment of archetypal energies, former lifetimes, ancestral imprints, mythological figures, spirit guardians, and spiritual traditions all align with, and trace back to our divine origins. This question, I feel, cannot be answered from our limited human perspective.

About The Author: Isadora

Known as The Psychic's Psychic, since 1998, Isadora has read for thousands all over the world, her impressive list including clients from the Obama administration, Fortune 500 CEO's and notable names in Hollywood. Her detailed (Gemini) accuracy is nothing short of astounding, with her ability to see people at the Soul Level and clearly answer questions on a wide range of subjects, from relationship matters, business decisions, to past lives, etc.—anything that requires clear answers and pin-point insight. She has the ability to identify hidden patterns that run beneath your current situation, providing you with information to positively change your future. If you'd like a reading with this compassionate, straight forward, laser-accurate and dedicated Psychic, you can find Isadora at PsychicAccess.com.


This site uses Akismet to reduce spam. Learn how your comment data is processed.