The Spiritual Path Of The Wandering Nomad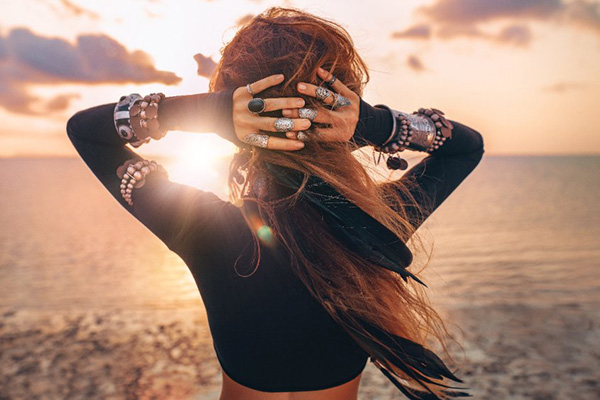 A recent chat with a relative about my plans for the future reminded me of a first cousin who once remarked on my nomadic lifestyle, "You really don't seem to stay in one place for more than ten minutes!" A friend once also pulled my leg about needing to buy a new Rolodex, because I was filling hers up with all my constantly changing addresses from all over the world (those were the days before contacts could be more easily stored on a smart phone).
According to Astrology, I was supposed to get settled early in life as a Cancerian, by creating a permanent home and haven, and having a family with several children. Well, this was never the case. I thought the desire to settle down might come as years passed, but it never happened.
I also never became broody. I would become motherly over a puppy, kitten or other young animal, but I never felt the desire to have children of my own.
Over many years of personal growth and spiritual exploration, I have gained a deeper understanding and greater clarity regarding the choices I have been making in this lifetime.
Astrologically, for example  there is a strong Gemini influence in my natal chart which is contributing to my restlessness, as well as Leo fueling my creativity and my sense of determination. I am not am expert astrologer by any stretch of the imagination, but the way it was explained to me by a professional astrologer made perfect sense.
A past life regression session also revealed that I had conceived many children in previous incarnations and that the desire to have offspring of my own this time around was not a part of the blueprint.
I found the matter particularly challenging when I was younger. I would be dating a wonderful guy who really wanted to settle down with me and longed to have a family, but the mere thought of having my wings clipped by marriage and motherhood was always unthinkable to me. So, many good relationships ended because we really were not on the same page about settling down and having children.
There are three wants which can never be satisfied: that of the rich, who want something more; that of the sick, who want something different; and that of the traveler, who says 'anywhere but here'  ~ Ralph Waldo Emerson
Decades ago, while it was not yet apparent to me at the time, a detailed psychic reading indicated future potential regarding global travels and actual moves, together with my calling to work as an agent for the spirit realm and bring hope and healing to people.
Years ago, I also attended a psychic development course at the Arthur Findlay College of Spiritualism and Psychic Sciences. The program guided us through a process of identifying the spirit guides who were working with us during that time in our life. In a regression, as well as a group clairvoyance session, I perceived the name of my guide Andrietta.
Andrietta is a  guide from my soul family who is constantly with me. As soon as I heard her name mentioned the first time, I instantly saw her in my mind's eye. She is dark-haired and I often see her twirling in a traditional Romani skirt of many beautiful colors. She always seems delighted when I connect with her. The experience reminds me of Luke 15:10 in The Bible that states:, "there is joy in the presence of the angels."
In time, I learned that Andrietta  had been my twin sister in a previous life as two Romani girls, and that only I chose to reincarnate in this lifetime. She is now helping me with my life calling to serve spirit. Not only does it all make sense in many other aspects of my life, personality and work, but it also explains my restlessness and desire to constantly change location. The Roma people in Europe is an Indo-Aryan ethnic group who are traditionally nomadic itinerants, also known as the 'traveller' community.
A man who leaves home to mend himself and others is a philosopher; but he who goes from country to country, guided by a blind impulse of curiosity, is a vagabond ~ Oliver Goldsmith
I have lately been having conversations with friends who are in the process of settling in Bali, Indonesia, and who are encouraging me to join them there. South America has also come up as a possible future move in a psychic reading I had with a trusted colleague.
But I have no intention of uprooting just yet. I have older pets who need me to stay here in Spain for the time being. They do not deserve to experience any more upheaval than they've already had, so I will simply need to harness my nomadic spirit for a while longer, and instead maybe work more on appreciating the present moment and being in the now.

About The Author: Shani

Shani is a qualified practitioner in Reiki, aromatherapy, reflexology, body spin, and animal telepathy who received psychic development training at the Arthur Findlay College of Psychic Research in England. A published writer, her articles and predictions have appeared in several respected magazines and on psychic websites, and she has read for many celebrities and even heads of state in Africa. Because of her empathy, people find it easy to connect with her. Every month, she attends a psychic circle and the information that comes through from Spirit never ceases to amaze everyone present. Though she was born in London, Shani has traveled the globe and has studied the art of African Mysticism, bringing her unique flavor to those seeking her incredible talents. What she has taken away from her many travels abroad, is that there is always a sort of longing clients have to be connected to the source of their being. Get a reading with Shani at PsychicAccess.com.