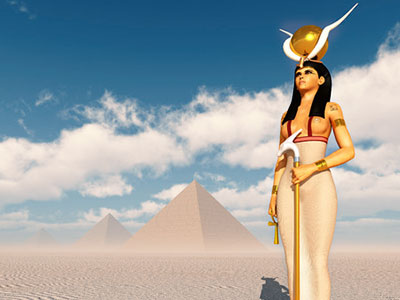 Hathor is an ancient Egyptian goddess representing healing, love, joy, and motherhood. She was known as the Mother of Mothers and the Celestial Nurse who presided over women, fertility, children, and childbirth.
However, Hathor is also associated with the dead, as we see in the tomb paintings where she was depicted as the Mistress of Heaven, welcoming the dead into the next life. Hathor's connection to helping bring souls into the world through childbirth, and helping souls cross over to the land of Spirit, makes her a goddess who bridges together life, death, and Spirit, and her connection to the Great Mystery.
Hathor's name translates to 'House of Horus.' Horus, is the son of the Egyptian Goddess Isis, also known by her Roman name, Auset or Iset, who is recognized for her psychic knowing, and her connection to the celestial skies and prophesy.
There is an Egyptian tale where seven Hathors are disguised as seven young women linked with fortune-telling and the Land of the Dead. They may have been associated with the Pleiades in later times. Hathor herself was known as Lady of Stars, in connection with the star, Sirius. Continue reading →