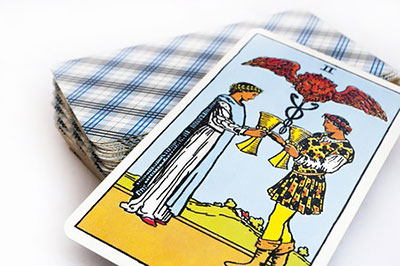 The Tarot's suit of Cups represents the element of water and signifies our feelings and emotions in readings. It also denotes love, intuition, desires, dreams and relationships – including professional, personal, family and casual relationships.
Beginning with the Ace of Cups through the Court cards (Page, Knight, Queen and King) reveal feelings, intuition and love in a reading. Depending on the context of the Tarot reading and the nature of the particular spread, the Cups describe how we may be feeling towards love and how others in our life feel about love. Is there love between the querent and the other party? Read the rest of this entry »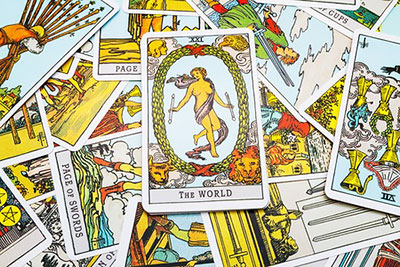 I started working with the Tarot when I was 14 years old. I read the metaphysical books of the time and wanted to explore my budding intuition. One afternoon at a bookstore, I was drawn to the Rider-Waite Tarot deck – I felt an instant pull to it in particular!
I wasn't going to the bookstore that day to buy Tarot cards, but once I did I couldn't put the mysterious deck of cards out of my mind. Once opened, I studied the deck for weeks on end, and I thoroughly enjoyed it. I soon read the cards for others.
The first time I was doing a card spread for myself, my mother walked into my bedroom and told me that my great grandmother also read the cards, as well as tea leaves. It was if she wasn't surprised her daughter would be interested in reading the cards, yet she didn't encourage me either. Read the rest of this entry »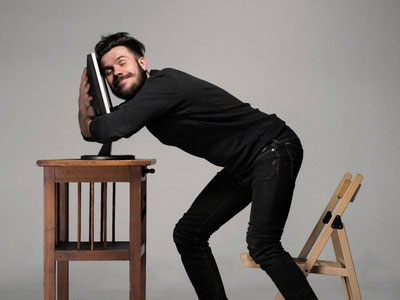 I've been a professional psychic reader since 1998. Before that I was a student for many years. One would think people would take you a little more seriously, whenever you may try to caution them. But too often they do not, especially when it comes as a personal favor.
I used to do free psychic readings for family, friends, and their friends, on the condition they promote my services in return. I no longer do that. This is for a variety of reasons. No one ever really promoted me, and I've noticed over the years that if the reading isn't paid for, it usually is not valued. These days I only offer a discount rate to friends and family. Read the rest of this entry »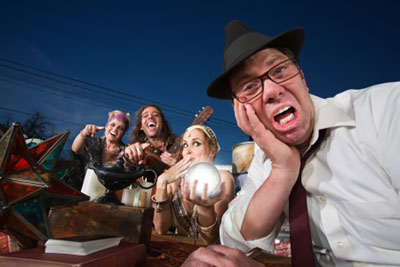 Recent psychic readings, and the sort of questions clients have been asking, have made me all the more aware of the responsibility of the work we do. A few words alone, a recommended path to follow, or a suggested course of action we advise, can have a huge impact on people's lives.
When I find myself feeling hopeless at the plight of the world, and its people and animals, I always remind myself: if I can just make a difference to the life of one person or animal today, then it's all worth it.
In 2004, I was working at a psychic fayre one Saturday. Before visitors arrived, one of the other psychics asked me to read for her, and insisted that she read for me in return. Her reading was so negative and threw me so off balance that I packed up for the day and went home. Read the rest of this entry »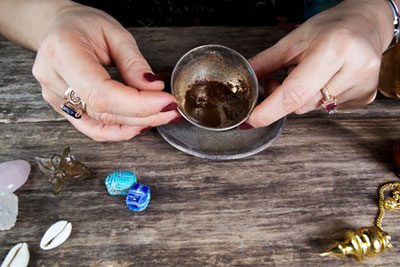 Tasseography is the art of reading the tea cup or coffee cup, otherwise known as tasseomancy or tassology. It originates from the Arabic word tasse, which means 'cup' or 'goblet.' This ancient form of divination is derived by reading the patterns of the tea leaves, coffee grounds and even wine sediments.
Although it is commonly associated with gypsy fortunetellers and crazy old cat ladies, it is a mysterious and ritualistic art with long history going back to ancient Greece. Tasseography developed independently throughout Asia, the Middle East and Greece. Modern tasseography was further seen throughout Scotland, Ireland and Eastern Europe. Read the rest of this entry »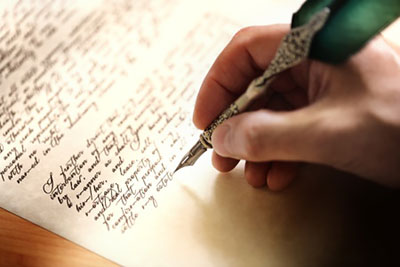 Many mediums and psychics make us of some form of automatic writing or psychography. Automatic writing is a form of channeling that helps psychics, mediums and healers to step outside of themselves and disconnect from their own feeling and thinking patterns, and receive spiritual messages.
I believe that all great works of music, complete books, and other forms of art, are all inspired by spirit in a similar way. Yes, not only do we receive answers to pressing questions, or receive spiritual insights through some form of channeling, but also significant art works, or even poetry come to us in this way.
Originally automatic writing was done using a planchette with a pencil and two wheels. The text a planchette produces can be tricky to decipher, and so a pen or pencil and paper became the preferred method. Spiritual practice always seems to keep up with technology and these days spirit writing using a computer keyboard has become equally popular! Read the rest of this entry »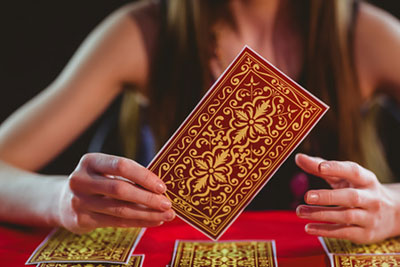 I feel the best way to deepen your intuition, and possibly psychic ability, is through your connection with others. This can be accomplished in many ways.
One way is through an intimate relationship with another person, on a very personal level. The person in your life that you connect with physically, can allow you to deepen your senses and develop your senses and sensuality. Love and passion are great for the soul, the body, and developing and expanding your intuition.
You can also deepen your intuition through a psychic circle. Psychic circles, sometimes called development circles, are a group that meets to support, encourage and to help each other develop intuitively and psychically. It is a great opportunity to connect with other like-minded sensitive people. If you are not sure if there is a group in your area, you could always start one. Read the rest of this entry »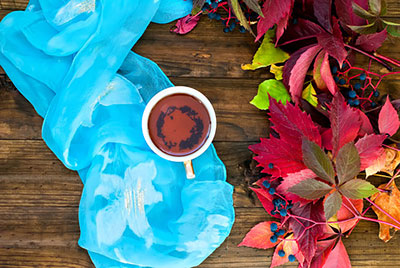 I've always been fascinated by tea-leaf reading, and decided it was time to take a look into what makes tea leaves special as a divinatory tool.
When I was a kid, I lived on the end of a very long street. At the top of that same street lived the local tea-leaf reader. I wish I can remember what she looked like, but I vividly remember her house number scrawled in thick black marker on a piece of cardboard… and nailed to a tree. Of course, we all went to her for readings when we were teenagers, but I can't for the life of me remember what she said to me during my reading.
Not surprisingly, tea-leaf reading as a method of divination, also known as tasseography or teomancy, goes way, way, back. It also makes sense that reading tea leaves follows the path of the cultural and economic practice of the trade of tea itself.  Read the rest of this entry »