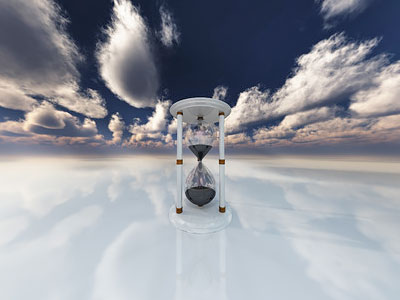 Have you ever wondered why it seems so difficult for even fairly gifted psychics to predict timing, especially relating to when someone is going to make a choice to change? I have had clients  asking me why timing varies from reading to reading, and psychic to psychic?
A very talented and famous psychic, John Edward, once stated,  "I am a psychic, not Omniscient." If you approach a psychic reading with the expectation of guarantees in triplicate, then you are misunderstanding the true psychic's gift and purpose, and you may very well be disappointed.
This is not Oz and we are not wizards of inexhaustible knowing. If anyone guarantees you an outcome or better, or charges you exorbitant amounts to move mountains for you… run. Run, don't walk! You are consulting a fraud. Read the rest of this entry »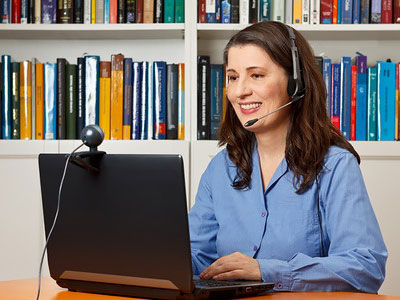 As a third generation clairvoyant of Celtic descent, I realized early in my life that it is my calling to reach, help, teach, and guide a diverse array of precious souls. I hope to continue to expand in my understanding of this calling, and that I can be a light and a help to many pilgrims on their own path to their destiny.
Experience has taught me that most people are seeking reassurance and hope about concerns in at least one major area of their life, on which they have become acutely focused. Like a fog which descends without warning, minimizing a broader visibility, and distorting the greater vision, these concerns can mutate quickly into fears and obsessions. This in turn can result in a real loss of perspective, and an inability to recognize the prevalence and magnitude of the sea of blessings in which we swim daily. Read the rest of this entry »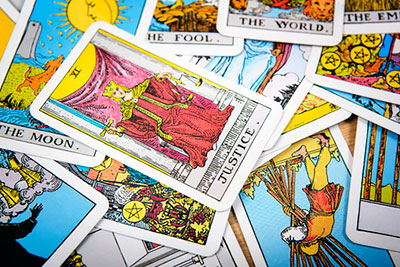 In my previous blog I covered the Tarot's suit of Cups. The suit of Wands differ in a big way. The wands represent the element of fire. As far as the Tarot is concerned, fire is passion, environment, spirituality and creativity. They also share some of the other traits of the Cups and Swords.
I always think of the Wands as the pilot light within us. They speak to ambition and determination. When a Wand card shows up in your reading it will often point to how your body might be functioning given a certain situation. Are you passionate about your career? Are you passionate about your relationship? Or is your job mainly just a paycheck? Read the rest of this entry »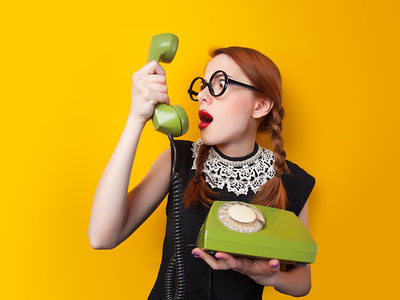 Many psychics tell people what they want to hear. Some do this because they are frauds, some do this because they want to be loved and admired by another person, and some because they are not very talented, or they just want to get you to come back and spend more money. It is hard to find  honest, reputable psychics, just like it is hard to find a great car mechanic, or lawyer.
I have been told, "You're wrong!" Or, "I don't agree with you." I typically get these responses from people when I tell them something they do not want to hear in a psychic reading.
For example, I told someone they had an Ancestral Spirit present helping them, who is Russian military. "Oh no, I am Scot-Irish," said she irately. She did call back months later to confirm that after some research she discovered she did indeed have Russian military in her background. Read the rest of this entry »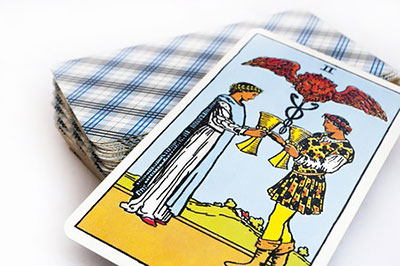 The Tarot's suit of Cups represents the element of water and signifies our feelings and emotions in readings. It also denotes love, intuition, desires, dreams and relationships – including professional, personal, family and casual relationships.
Beginning with the Ace of Cups through the Court cards (Page, Knight, Queen and King) reveal feelings, intuition and love in a reading. Depending on the context of the Tarot reading and the nature of the particular spread, the Cups describe how we may be feeling towards love and how others in our life feel about love. Is there love between the querent and the other party? Read the rest of this entry »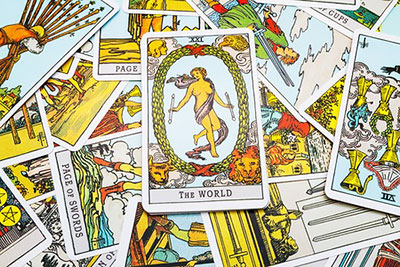 I started working with the Tarot when I was 14 years old. I read the metaphysical books of the time and wanted to explore my budding intuition. One afternoon at a bookstore, I was drawn to the Rider-Waite Tarot deck – I felt an instant pull to it in particular!
I wasn't going to the bookstore that day to buy Tarot cards, but once I did I couldn't put the mysterious deck of cards out of my mind. Once opened, I studied the deck for weeks on end, and I thoroughly enjoyed it. I soon read the cards for others.
The first time I was doing a card spread for myself, my mother walked into my bedroom and told me that my great grandmother also read the cards, as well as tea leaves. It was if she wasn't surprised her daughter would be interested in reading the cards, yet she didn't encourage me either. Read the rest of this entry »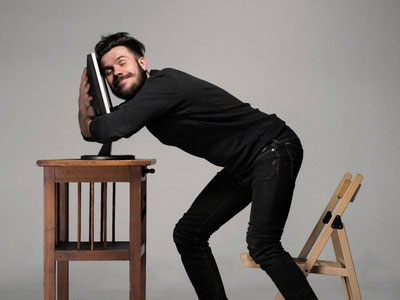 I've been a professional psychic reader since 1998. Before that I was a student for many years. One would think people would take you a little more seriously, whenever you may try to caution them. But too often they do not, especially when it comes as a personal favor.
I used to do free psychic readings for family, friends, and their friends, on the condition they promote my services in return. I no longer do that. This is for a variety of reasons. No one ever really promoted me, and I've noticed over the years that if the reading isn't paid for, it usually is not valued. These days I only offer a discount rate to friends and family. Read the rest of this entry »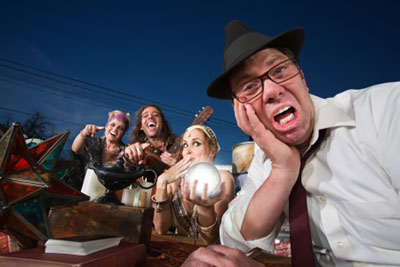 Recent psychic readings, and the sort of questions clients have been asking, have made me all the more aware of the responsibility of the work we do. A few words alone, a recommended path to follow, or a suggested course of action we advise, can have a huge impact on people's lives.
When I find myself feeling hopeless at the plight of the world, and its people and animals, I always remind myself: if I can just make a difference to the life of one person or animal today, then it's all worth it.
In 2004, I was working at a psychic fayre one Saturday. Before visitors arrived, one of the other psychics asked me to read for her, and insisted that she read for me in return. Her reading was so negative and threw me so off balance that I packed up for the day and went home. Read the rest of this entry »