Tomorrow Has No Logic Or Reason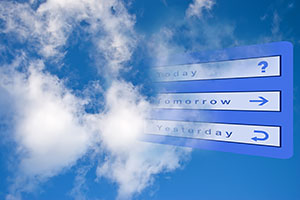 Much of our lives are too often built on the unknown, the future, tomorrow. We forget that the plane of living is here, right now. We are living today, in this moment.
So often when I share with people the spiritual message that is meant for them, the first words in response are: "I don't see that." Of course, you won't see it! The actions, the words, the path right now, in this moment, the "reality" we are not seeing is the truth of the heart, the spirit, the curve in the path ahead, because truthfully the future hasn't happened yet. We don't need to tell what's happening right now, because that's in evidence. We need to "see" ahead, so we can be prepared, or be comforted. Yes, this is where my responsibility begins.
Today is the tomorrow that you worried about yesterday ~ Dale Carnegie
It is helpful knowing the past, or what is happening now, in this moment, so we can figure out how to bring peace to the changes coming, to get there more easily, to be steady, to be ready.
If spiritual advisors, mediums and psychics tell you that chaos or problems may be coming, you shouldn't get upset, or worried. The only way out of the challenging circumstances you are in, is for things to 'blow up', for all come to a head, to come out.
When we are having issues with our guy, our lady, if there will be an argument, don't fight the messenger. Listen to the advice and guidance saying: "Okay, here's how to handle it, as this is what is really in the heart of your beloved."
So many times we call for a prediction, but then we don't like the message the way we are hearing it. We blame the messenger.  Visionaries do their utmost to offer you the best, the very best, the way spirit is saying it.
What is happening right now, isn't in the heart, the spirit, or tomorrow. Yesterday's reality is not today's certainty, and today is not tomorrow. Spirit and love has no logic or reason in the way we will see the truth.

About The Author: Mariella

Mariella is a New York resident, born in Italy, who began accurately reading at the age of eleven with just an ordinary deck of playing cards. She's since designed her own deck of Tarot cards as well as a unique time board that provides clients with startlingly accurate time frames for her predictions. For a reading with this warm, funny, and highly detailed Clairvoyant and Empath, you can find Mariella at PsychicAccess.com.


This site uses Akismet to reduce spam. Learn how your comment data is processed.