Today's Reality Is Not Tomorrow's Certainty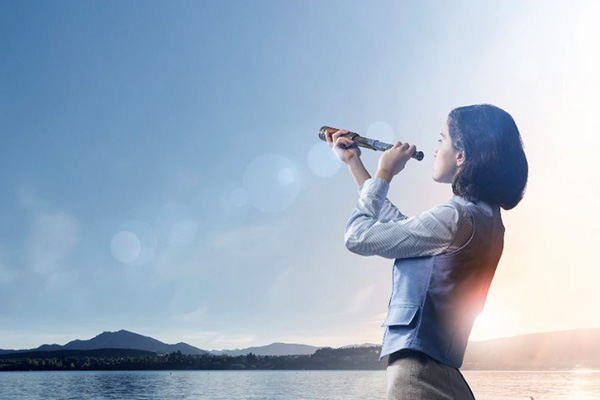 Much of our lives are too often built on the unknown, the future, our tomorrow. We forget that the moment of living is right here, right now, in the present. We are living today, in this moment.
People don't need to question what's happening right now, because that's usually already evident in their lives. However, they do need to 'see' ahead, so they can be prepared for what is to come, or reassured that they are going in the right direction. This is where my responsibility begins as a psychic reader and future forecaster.
However, sometimes when I share with people the divine messages and spiritual guidance meant for them, their response is confused or doubtful. "Uhm, I don't see that happening," they might say. Or, "I cannot imagine how such an outcome could be possible."
Well, of course, you won't see it right now! The future hasn't happened yet. One cannot see a distant curve in the path ahead, until you actually reach it.
Psychic predictions often make less sense in the present than it ultimately will in the future. If we wish to probe the future, we must also be open to trusting the process and have the necessary faith that Spirit, God, Source, Universe, the Divine always has our best interest at heart. All will unfold as it must in divine time for our highest good.
It is also insightful to understand and heal the past, and be fully aware of what influences are happening right now, in this moment, so we can figure out how to proceed into the future, better comprehend the changes coming, to get there more easily, and to be steady and ready.
Today is the tomorrow that you worried about yesterday ~ Dale Carnegie
Of course, it is always easier to embrace a psychic prediction if the outcome will be positive or fortunate. However, if a psychic advisor forewarns you that there may be some problems ahead, or that the outcome will not be ideal, there is no reason to get upset or be worried. A reputable reader will always relay to you guidance from spirit on how to either change, avoid, or prevent it, and in worst case scenarios how to accept and make peace with it. Sometimes the only way out of challenging circumstances is for things to 'blow up', for all come to a head, and life to rearrange itself for the greater good.
When you get reading, be wise and open to receive the messages meant for you. Listen to the advice and guidance from spirit. If you asked for a prediction, but then don't like the answer, do not blame the messenger. Reputable psychics and mediums will always do their utmost to offer you the best, the very best of what spirit is saying.
Today's reality is not tomorrow's certainty. Tomorrow is another day and life can turn on a dime. Spirit, God, Source, Universe, the Divine has no simplistic logic or reason in the way we humans choose to see the truth. Let go, and let Spirit.

About The Author: Mariella

Mariella is a New York resident, born in Italy, who began accurately reading at the age of eleven with just an ordinary deck of playing cards. She's since designed her own deck of oracle cards using a combination of Tarot, old-fashioned Neapolitan cards, and Angel oracles cards. She also developed a unique time board to use in her readings that provides clients with startlingly accurate time frames for her predictions. Deep faith, integrity, and warmth are her trademarks. She deeply believes that even the darkest situation holds light and hope, no matter how difficult or unclear the problem may be. She reveals and delivers spirit guidance with sincere love and a deep compassion for every soul who comes to her for lasting solutions to their problems. For a reading with this warm, funny, and highly detailed Clairvoyant and Empath, you can find Mariella at PsychicAccess.com.


This site uses Akismet to reduce spam. Learn how your comment data is processed.