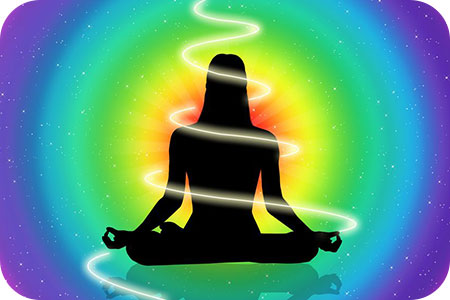 I find aura reading to be interesting and a lot of fun. It has broken down social barriers for me, especially with those I have come across who have a somewhat challenging disposition. You can read anyone's aura anywhere, anytime. It can be done on a complete stranger, or someone you may have known your entire life, and the person can come from any walk of life.
For example, I have a friend who is abrasive, abrupt, and bristly, but also precious and sweet. All this dynamic energy rolled into one little 'ball of fire.' Over the years many have not only overlooked her, but also completely misunderstood her. Her soul color is a flashing white, with a brilliant swath of pink streaking directly through the center. I have known her personally for most of my life, and I thought you might not only enjoy helping me analyze her entire aura, but in the process also learn to read and interpret a complete aura yourself.
Let's begin at the beginning, which is the head area. This is done looking entirely at the outside of the head itself, as if we were going to draw a ring around it. When I look at her aura here, I determine a strong gray undertone first, and then an overlay of light blue. The gray tells me she is not feeling the best right now, possibly suffering from a head cold. The blue of course denotes that she is extremely creative. This makes sense since my friend loves poetry, is a gifted crafts person, and loves to knit fashionable clothing and accessories. Her designs have been sought after by individuals that recognize and appreciate her unusual talent.