Published
March 9, 2020
|
By
Satya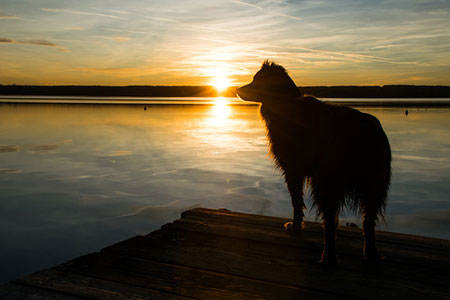 Recently, my beloved 18-year-old dog needed to be put down. I asked her, and her sister, to hold on until we moved out of state. For some reason, I just felt the need for them to make one more move with me. They had relocated with me wherever I went for the past 18 years, but this was a big one. They were both amazingly healthy, I was just nervous and concerned for their well-being.
Unfortunately, we were scammed in the real estate deal linked to this move, having been told the heater in our new home had been serviced and was in working order. Arriving there, we found out it was actually a very old oil heater. It was cracked, toxic and not working at all.
Keeping my dogs warm, which is essential for old dogs, was near impossible. The house only allowed for one space heater, or the electricity would go out. The dogs wandered around, and we struggled to keep a blanket or heater on them consistently. Soon one of my dogs stopped walking.
My dog was so loved. The pain was intense when she passed. However, she came to me in a dream soon after. In this vision she was young, beautiful, with a clean, shiny coat. She was also warm and comfortable, lying in the sun. There was a glimmering rainbow on her body – a symbol of the Rainbow Bridge that leads to the Other Side. I knew she was telling me she was doing okay now. She was in the light.
Posted in

Afterlife, Dreams, Healing, Mediumship, Paranormal Phenomena, Psychic Phenomena
|
Tagged

Afterlife, animal communication, animals, bereaved, clair senses, claircognizance, communication, crossing over, death, dog whisperer, dogs, dream, dream analysis, dream interpretation, dreaming, Dreams, evidential mediumship, extra-sensory perception, grief, Healing, Heaven, karma, Karmic Law, loss, pain, pet psychic, pets, psychic abilities, psychic awareness, psychic senses, retrocognition, sadness, spirit communication, spirit contact, spiritism, spiritual messages, spiritualism, suffering, symbolism, The Other Side, unconditional love, visions, visitations
|
Leave a comment