And They Call It Puppy Love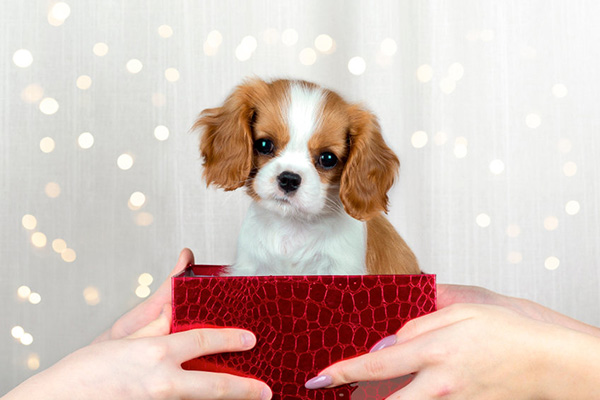 Many supernatural events occur at my home. When you actively work with the Divine on a daily basis, you can't help but be plugged into energy that is wondrous at times. Also, my intentions are always set for positive, high vibrational energy to come in, so I don't worry about the other kind.
When my daughter visits, the wattage is amped up to even higher levels, as she is quite a spiritually gifted creature herself! Recently, before she came home she experienced a vivid dream involving our new puppy – an adorable black, white, and brown King Charles Cavalier. He was due to arrive in a few days.
In the dream, the new puppy was happy to meet her, affectionately licking her face. She then named him 'Admiral Halsey,' after the delightful song Uncle Albert/Admiral Halsey by Paul and Linda McCartney. What a perfect name for a pet, I thought.
But I had not mentioned any of this to my husband, as he was away at the time, visiting his mom. We lost our beloved family dog, Oliver, nearly a year ago from cancer, and my husband made it clear he didn't want to go through anymore dog tragedies. He was adamant about not getting another dog, and there was no changing his mind on the matter.
The grief I felt for Oliver was immense; the tears I cried could have easily flooded the Nile! I will never stop missing him and I longed for a dog in our home. The desire kept on growing, until the burning need became so great, it compelled me to cast a horary astrology question to find out if I would ever be getting another dog, or not. Horary astrology is an ancient divination technique in which one casts a horoscope to answer a current question or address a burning issue in the here and now.
I was not expecting a positive outcome for the horary chart, and so you can only imagine my great surprise and utter euphoria when it very definitively showed that not only would I be getting another dog, but he was going to be arriving very soon!
Over the years I have felt the truest, purest love—the love of God, really, I imagine that's what God's love feels like—is the love that comes from your dog ~ Oprah Winfrey
Emboldened by this powerful forecast, I asked my husband if he could possibly entertain the idea of a puppy, and his immediate reply was a… resounding yes! He said he just needed some time to grieve Oliver, and since a year had now passed, he felt the longing for a family dog too. It was time.
Within a week, our new puppy arrived and he was immediately feeling at home. Not a single complaint or a whimper came from him. He was not shaken, stirred, or at all vexed by the long journey, or the separation from his dog family. He felt right at home.
And now, the choice of a name was at hand. I felt so utterly grateful that my husband consented to this new dog, I decided to leave the name entirely to him; to bestow him the honor. He said there was definitely something in his face that reminded him of Admiral 'Bull' Halsey, so he wanted to call him 'Admiral.'
Magic exists. Who can doubt it, when there are rainbows and wildflowers, the music of the wind and the silence of the stars? Anyone who has loved has been touched by magic ~ Nora Roberts
I then told him about my daughter's dream to him. We were both somewhat surprised, but not entirely shocked. He was used to the unusual, spooky things that often transpired in our house, and it confirmed his own strong feelings for the name.
So, our new puppy is now officially called Admiral Halsey, and just like the real admiral, our Admiral is also a Scorpio. Our daughter quickly arranged a flight to visit with The Admiral and the first thing our puppy did was to lick her face, just as he had done in her dream!

About The Author: Tracey

For 11 years, Tracey's predictive practice has taken her down the rabbit hole, where she's amped up her intuitive gifts by mastering new tools that are accurate and cutting edge. She began with Tarot, Numerology, Soul Path Energy Clearing and Natal Astrology, reading for her one-on-one clients in her private practice, at fairs and festivals, and at private parties. Her newest technique, Horary, is popping up on new apps and on social media. Horary is a predictive and magical form of astrology like a psychic reading, with a chart cast for the moment and quickly read by a highly trained practitioner in the art. Tracey currently lives in South Florida, but she maintains a busy practice with clients situated mostly in Los Angeles, NYC, Chicago, Atlanta, and Palm Beach. Past clients she has worked with include a well-known Disney actress, a comic book icon, an Emmy nominee, a luxury hotel entrepreneur, and the founder of Ben and Jerry's ice cream. Tracey was asked to be part of a panel for an exciting new YouTube series sponsored by the prestigious Wessex Astrologer. She is also a successful sci-fi and fantasy author with a new book recently released to rave reviews. You'll have a magical trip when you hop aboard Tracey's exciting Horary bullet train leaving the station at PsychicAccess.com.