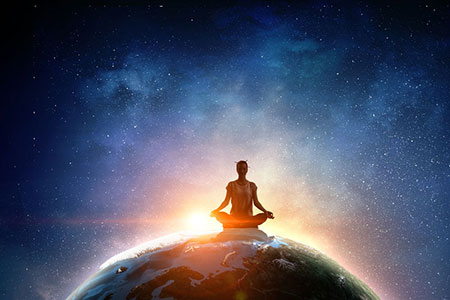 We have been given a unique opportunity by the Covid-19 pandemic: we have free time. Many people are feeling frustrated or anxious right now, but the sages of the ages gave us unique tools to deal with such things.
The great teachers, prophets, gurus, avatars and ascended masters taught us that the experience of love, joy, and serenity can only truly come from within. They encouraged us to take time each day for prayer and meditation. But many of us did not listen. We have the time now, so don't waste it!
Before Covid-19, most of us were frantically running around in search of these intrinsic qualities of inner peace, love, joy, and serenity. We attempted to control everything in our lives, so we could feel a sense of stability and security. And we were searching for a sense of fulfillment.
Now, as we are forced to settle down, some of us are beginning to realize that these 'fillers' we had been chasing in life, have not really provided an authentic sense of security or fulfillment. The truth is that the answers were never outside of ourselves.
In my career as a professional psychic, I have talked to countless people over the years who were on a crusade to find love, joy, and serenity outside of themselves. I have heard so many people blame their circumstances, or other people, for their many woes. But their misery is usually a product of searching for something that is not there. You see, we cannot find love, joy, and serenity. We can only be it.
Posted in

Life Design, Lifestyle, Meditation, Metaphysics, Self-Help, Spirituality
|
Tagged

anger, anxiety, Ascended Masters, avatar, awakening, awareness, beliefs, bliss, calm, Christianity, collective consciousness, consciousness, coronavirus, courage, disease, divine order, divine self, economy, fear, fulfillment, global awakening, group mentality, guru, higher self, inner child, inner peace, inner strength, Jesus Christ, joy, Life Design, life lessons, life purpose, Lifestyle, Meditation, positive thinking, power, prayer, religion, self, serenity, soul purpose, spiritual awareness, spiritual guidance, spiritual insight, spiritual messages, spiritual practice, spiritual teachings, spiritual wisdom, Spirituality, superstition, tranquility, truth, unconditional love, wisdom, worry
|
Leave a comment