Published
June 10, 2021
|
By
Maggie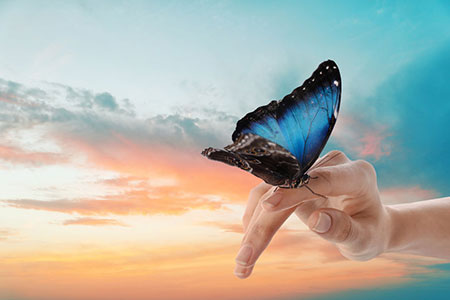 There has always been skepticism when it comes to psychic phenomena, mediumship and spiritual experiences. However, one instance where I have often seen this kind of skepticism dissolve is at wakes, funerals, or when people gather for the celebration of someone's life after a passing.
I have attended several such gatherings with skeptical relatives, friends and strangers, listening to the stories of their loved ones and the signs and messages they have received from the dearly departed. I have also noticed that once someone in the group had the courage to tell their story, others feel more comfortable to start sharing theirs.
I have heard many, many stories over the years of angels feathers, symbolic numbers, butterflies, visitation dreams, mysterious phone calls, electrical disturbances, smells, sounds, and apparitions. And when people talk about the signs, messages and synchronicities, I have observed a softening in their voice, face and body. Our body language changes when we discuss these experiences.
Death and bereavement tends to change people's outlook, even if it is only temporary with the more cynical among us. A loved one's passing connects us all and affects us all. And like our ancestors before us, we will all go through that door someday. People experience an opening of the heart and mind at these times and are more willing to share their personal experiences.
Most of us have our own unique stories of spirit communication and paranormal visitations. I believe it is vital that these stories be shared, so others may feel more comfortable in sorting through the signs, messages and synchronicities they have received. Instead, those who grieve are often made to feel these things are superstitious or unnatural, and encouraged to disregard their experiences.
Posted in

Afterlife, Mediumship, Paranormal Phenomena, Psychic Phenomena, Spirituality, Tarot
|
Tagged

Afterlife, animals, awareness, beliefs, bereaved, crossing over, death, dogs, evidential mediumship, grief, loss, loved ones, mediumship, oracle cards, paranormal, Paranormal Phenomena, pets, psi phenomena, psychic attunement, psychic awareness, psychic experiences, signals, signs, skeptics, spirit animal, spirit communication, spirit contact, spirit messages, spiritism, spiritual awareness, spiritual messages, spiritualism, superstition, synchronicity, tarot cards, tarot deck, The Other Side, visitations
|
Leave a comment