Published
April 17, 2019
|
By
Lucinda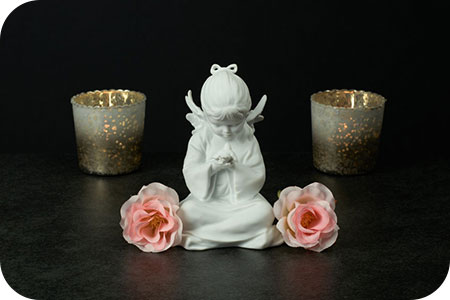 Over the last few months, I have written in depth about the angelic realm and all the wonders it bestows upon humanity. In today's blog, however, I wish to share some ideas on how to construct your own angel altar at home, so that you can connect with the angels and archangels whenever you need their spiritual guidance and assistance in your life.
First, find a sacred space for your altar somewhere in your home or office. This can just be a small, private area in your bedroom where you know you will not be disturbed and will be at peace with yourself.
Select or purchase a base for your altar. It can be as simple as a small box or coffee table that is sturdy enough to hold whatever you choose to place upon it. Then drape a cloth over your altar. Anything that is large enough to cover the base will suffice.
Next, you can adorn your altar by placing appropriate objects on it, such as candles, crystals, angelic figures, plants, flowers, stones, and the like. You may use anything that is personally meaningful to you, or to which your are intuitively drawn.
To glamorize your display, you could add golden or silver colored objects, or even spray-paint an artifact of your choice to really add that personal touch. Silver, gold, black, white and mirrored rectangular trays are particularly on trend at the moment for decorating holy altars. However, if your budget is limited, simply paint or decorate an old tray, before placing it on your altar. Check around your home for other unused items that you could paint spray and add to your altar to compliment it.
Posted in

Angels, Crystals & Stones, Lifestyle, Spirituality
|
Tagged

altar, amulets, angel readings, Angels, archangel, books, candles, charms, colors, Crystals & Stones, energy charging, energy signature, flowers and plants, gemstones, guardian angel, guidance, incense, inner peace, intention, Lifestyle, Meditation, prayer, ritual, sacred space, spiritual messages, spiritual practice, Spirituality, symbolism, talismans
|
Leave a comment