An Angel Message Of Unconditional Love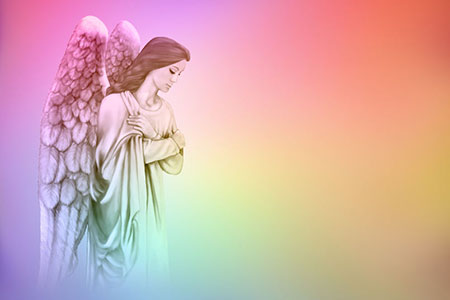 There are angels and spirit guides that work with us daily. They change at times, depending on what we need. They are always within reach and can hear our requests, our tears, and our laughter. They feel our sadness and joy.
I have a few angels and guides that are very dominant in my life, and at times they have a lot to say! But their messages always come from a place of truth and love.
I asked my angel earlier what the message was for today, and this is the message I received:
"This is a time to see the light of highest good in everyone. Even when others are negative, mean or hurtful, look below their outer facade, and see their soul.
See beyond their abrasive personality or behavior and feel instead compassion for them – even the most challenging souls that you cross in your path. There have been many in your life, and there will be many more to come.
This is a difficult lesson to learn. It will bring confusion at times, but you will in time find a sense of calm knowing that you did all you could do to be the best person you can be to others.
Rage and resentment serve no purpose. Anger, hurt, vengeance, spite, or wishing bad karma on others, serve no purpose.
Do not judge others because they are different from you. Accept all people as they are and send them loving energy that they will find their highest good in the challenges and lessons of their life.
Once you fully understand that you are here to love, and only love, the negativity will no longer affect you as it has in the past. When you can see each soul within the outer physical person, you will see the good that has simply been buried by those who do not have faith in themselves.
To love everyone unconditionally does not mean to give everyone your unconditional time. Sometimes, to love completely, we must never see someone again. This, too, is love. This is giving someone the freedom to exist and be happy, even if it must be without you ~ Vironika Tugaleva
Take time to join hearts, to join souls, to join third eyes, and see through another dimension of love to each soul that passes in your path, and your views will change dramatically.
The daily drama around you will fade from your awareness. You will no longer be caught up in it. The frequent heartbreak and disappointment that you feel will disappear and you will see the good that is to come.
Stay present in the moment and let go of the past. Let go of people who are not aligned with your highest good, but continue to send them loving energy for them to find their highest good.
Strive for unconditional love in in all situations in your life. Start with the wonderful person that looks back at you every day through the mirror. Start with yourself. Love yourself first, and then allow that loving energy to spread outwards to everyone around you.
You are so loved. It is time for you to have the same love for yourself and others that we, your angels, have for you.

About The Author: Sheri

Sheri is an international psychic and angel reader who provides clear answers on finance, career, relationships, manifesting your dreams, and working-out the kinks of life. Since 2004, Sheri is the owner on an International Spiritual Healing Centre where she runs her Reiki practice - either working on clients or teaching them the levels of Usui Reiki. She utilizes her office space for readings that are conducted via mail, phone, chat or live. Since 2008, she's honed her gifts on various psychic service websites, where she's provided telephone, chat or email readings. She also works on a spiritual network for people who have suffered horrific loss, applying her own first-hand experiences with such tragedies. Sheri's work has been described as honest, compassionate and life-transforming and she would like to see all of her clients soar free to a higher level of spirituality and growth, and exponentially change the world to the best it can be. You can get a psychic reading from Sheri at PsychicAccess.com.


This site uses Akismet to reduce spam. Learn how your comment data is processed.