horses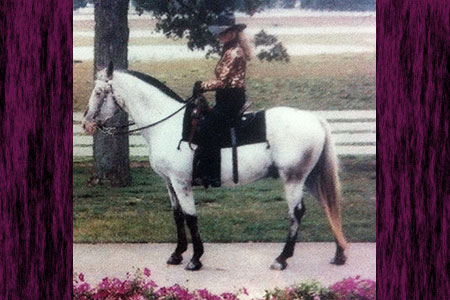 My passion for animals is far-reaching and horses are a definite favorite. They are amazing creatures that have been roaming the planet since the beginning of time. They started out humbly, but worked their way up the evolutionary ladder.
There is one particular horse that I will never forget. He entered my world about 6 months after my beloved American Quarter Horse, Luke, had passed away at the age of 22. I yearned for a new four-legged friend and found Jake for sale on a nearby farm.
I wanted a horse that would be good on trails, like Luke used to be. As I looked at the herd, one horse stood out instantly, staring at me with eyes that touched my soul. Jake wasn't the prettiest horse there; he had lots of nicks and bite scars on his body. He was a white horse with a black mane and tail, with black varnish markings on his legs and face.
The owner told me that Jake was unfortunately not the most willing horse on trails, but I still had my sights set on him. He also mentioned that a thorn from a tree had broken off in the horse's eye, several months back, but it seemed to be fine now.
As the man brought him out, I noticed he was heavy-handed with him and used force when not needed. The horse looked at me intently. I could clearly sense his sadness. He was not happy there.
The owner then saddled him up for me to ride, and he cut a branch from a nearby tree to use as a switch. "You'll need this on the trails," he said. I politely took the makeshift riding crop (with no intention of using it) and headed off to the wooded trails nearby.
Jake was quiet and we were feeling each other out. It was soon evident that he was a caring horse that aimed to please. I enjoyed the ride, and tossed that stick on the first turn. That was the day I started the love affair with my new Colorado Ranger horse. Only 5,000 of Colorado Ranger breed were registered at the time. The man could not recall how old Jake was, but when I got his papers I found he was 22 years old.