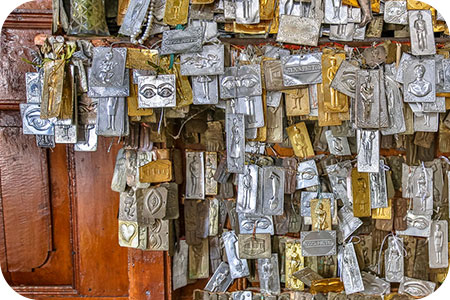 Years ago, my Grandfather gave me a gold bracelet. Upon his travels, or on special occasions in my life, he would gift me a charm to add to this bracelet. It was to remind of the things I loved or accomplished.
These charms are all special to me, but the one that stands out is the gold angel he gave me one Christmas. I remember when opened the box, the Angel was sparkling. I knew she was inviting me through the doorway to the unseen – to be able to speak through the veil.
This was my initiation to charms. Today, I use them as talismans, jewelry, mementos, and for divining. I'm also a collector of small, unique boxes and that's where my charms reside. Many of my charms are items that were passed down to me, such as a thimble, buttons, coins, safety pin, small crystal figurines, toys from cereal boxes' I also have found objects, like feathers and an acorn. Some are purchased charms, and charm kits from my favorite artists.
No matter our background or culture, symbols are universal and they tell a story. When I use my charms for divination, I ask clients to select charms at random, or intentionally. I then read their chosen charms before they leave from a session.  There is usually a charm or symbol that speaks to them that about a loved one, or someone that passed on. It's often through this symbol we can speak to them or make that connection.