The Laying On Of Hands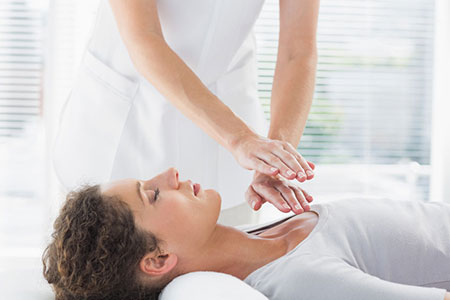 The laying on of hands, also known as the imposition of hands, is a ritual act performed in some religious and spiritual traditions. It is used for the purpose of ordination, healing, or the transmission of a spiritual gift or blessing. In this blog article I will explore the different traditions and how they use this ancient practice in diverse ways, with a special focus on healing.
Judaism
The hands are of particular importance in certain Jewish religious rituals. Deuteronomy 34:9 describes, for example, how Moses laid hands on Joshua, his successor. The term used for it is semicha, meaning 'leaning of the hands.'
It is also associated with sacrifice. Thousands of years ago, priests practiced semicha by laying hands on the sacrifices right before offering was made. Moses tells Aaron, "This is the thing that God commanded you to do, that God's presence may appear." It is understood that this passage in Leviticus 9 refers to the laying on of hands.
Christianity
In the New Testament we find a continuation of the Jewish practice of semicha, still connected to the liturgies of ordination and now also of baptism, in both of which the imposition of hands is an important part of the ritual.
Ordination involves conveying a gift and an authority within the Church. The imposition of hands connected with baptism is a means whereby the convert is born to the ecclesia, or the Christian community. The action itself of laying on hands is connected with the gift of the Holy Spirit and is also used to convey a blessing. For example, in Acts 6:6: "These they set before the apostles, and they prayed and laid their hands on them." It is also practiced as a means of healing (Luke 4:40).
And He took them in His arms and began blessing them, laying His hands on them ~ Mark 10:16
The laying on of hands is a very effective means of receiving healing, because there is a tangible experience in the healing process, which serves as a 'signpost' or a physical marker. Signposts are useful, especially for the one receiving healing. The anointing with oil is also a physical marker to help the one receiving prayer.
Christians believe the healing comes directly from God, and is not a type of energy or manifestation created by the minister or person. Also they believe this healing can come through anybody and it requires only faith. To some extent it is a type of prayer, but still the act of imposing hands has an important role.
Western Medicine
You may be surprised to know that the practice of healing touch is widely used in the nursing profession and popular among many western medicine practitioners. In the United States alone over 80 hospitals officially allow this practice and consider it beneficial.
The practice grew mostly through a grassroots effort of nurses. The University of Minnesota states on their website that "Therapeutic Touch is a contemporary interpretation of several ancient laying-on-of-hands healing practices. Delores Krieger, PhD, RN, professor emeritus of Nursing at New York University, and Dora Kunz, a gifted energy healer, developed and standardized the technique in the 1970s. This standardization facilitates research and evaluation of treatment effects."
Our sorrows and wounds are healed only when we touch them with compassion ~ Buddha
As with the spiritual imposition of hands, the technique in this case involve placing one´s hands on the patient, or hovering one's hands over the patient, with the intention of healing. Through this process it is believed that the energy field of the person can be consciously helped to aid the body in its natural ability to heal. This means that the treatment is not focus on the nature of a disease, but on the general well-being of the patient.
I have seen firsthand the power of laying on of hands, and found its effects surprising, in a case of pneumonia which affected an elderly person. It made me reflect on how interesting it is that a hospital may allow this practice, though they may not endorse is, but instead approving of it halfheartedly in the face of results that at the very least are more than puzzling!
Energy Medicine
There are also various other modern schools and perspectives that incorporate the laying on of hands in some way. Reiki, Restorative Touch, and Quantum Touch are a few good examples of such techniques.

About The Author: Paul

Paul is literally living his dream, counseling others from a bustling neighborhood in Buenos Aires, in the very place he dreamt of living as a boy. Born with a Clairvoyance that he desired to explore further, he developed his gifts as an initiate of a prominent esoteric school, studying under the tutelage of a Master who helped him to tap into the Divine Presence through Tarot and the Runes. Paul studied the Qabalah and Ceremonial Magic and founded a research group with some friends, which focused on applying spiritual principles to everyday life. For over twenty years, he has shared his talents and knowledge with others, becoming a sought after teacher as well as a highly valued Intuitive counselor. If you would like the deeper meanings of your situation revealed to you and are willing to journey with him down a path that will give you clear answers and fulfillment in your life, you can find Paul at PsychicAccess.com.