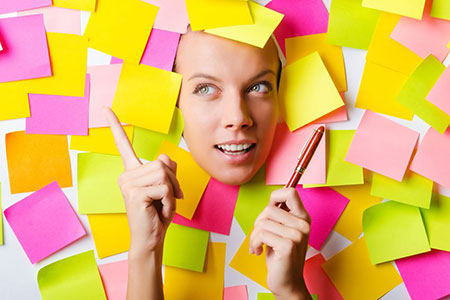 We live in a world where we are bombarded with negativity every day. Whether it comes from social media or the mainstream news, it's easy to feel like you're drowning in a sea of negative information and fear-based messages. And the more we are exposed to all this negative input, the more we internalize it, until it becomes part of our self-talk and general state of mind.
Fortunately, the solution to some of life's most complex challenges can often be found in the most mundane. Enter the simple sticky note! By writing down simple, positive affirmations or slogans on a bunch of sticky notes, and placing them anywhere you will see them frequently, you can significantly change your inner dialogue from constant negativity and nay-saying to one of possibility, hope and optimism.
Choose simple, short affirmations that resonate with who you are, and what you truly want in life. Whether it's something like, "I am worthy," or "Love surrounds me," or even, "I will get that dream job," it will inspire you to change the narrative and negative self-talk each time you read one of these short statements out loud.
This technique always reminds me of the famous opening scene of the television cartoon, The Simpsons, with Bart Simpson writing a phrase over and over on the chalkboard. There's actually some method in the madness of this old-fashioned way of disciplining schoolkids. When our brain repeats a word or phrase over and over again, new neural pathways are created with new associations. Saying something once or twice only, we're just as likely to forget it. But if it's something we repeat many times, our brain will literally change over time, and so will our patterns of thought, feeling and action.
It's been shown that establishing a new habit, or making new behavior automatic, takes on average about two months. Try placing your sticky notes in those places you spend most of your time every day: in your workspace, your car, on the bathroom mirror, the kitchen refrigerator, or on your bedside table. The more you see (and repeat) the words written on them, the more you will start to transform your thinking.