Now Is A Hopeful Time For Your Future Happiness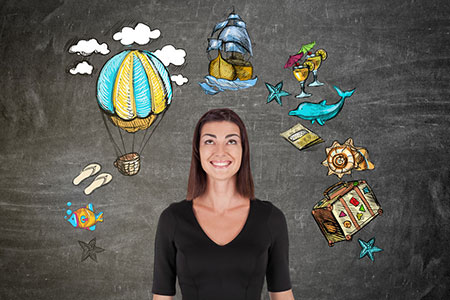 When 2021 finally rolled around a month ago, many of us expressed a great feeling of relief and welcomed the New Year with open arms. The year 2020 was extremely challenging, to say the least. But now we are already one month into a hopeful new year. At last, with some light appearing at the end of the tunnel, we can begin to feel a renewed sense of hope and optimism.
However, we will have to muster some more patience and courage. We can still not let down our guard for the foreseeable future. For the sake of our loved ones and our communities, we must continue to follow the latest health and safety protocols for just a while longer.
In addition, we should continue to give what we can from where we are and with what we have, whether this is in the form of financial donations, personal support for those who are still struggling, or healing thoughts for our family, friends, neighbours, colleagues and, indeed, the entire planet. We must also empathize with those who have climbed steep mountains over the past year and see how we might help them with their journeys.
For the wise and sensible the coming months can be a time of great personal growth and inner reflection. We can pat ourselves on the back for what we have accomplished thus far and have overcome under great duress. We can now look forward with more confidence. We have, after all, come this far!
We must now gather our thoughts and feelings and focus on what we can do to generate genuine happiness, well-being and fulfillment for ourselves and others in the future. It is okay if others do not yet share the same optimism and positive outlook for the future. They must walk their own path. Their negativity must not stop us from learning, growing, expanding and loving life.
Speaking from my personal experiences, setting goals, along with a detailed action plan, has actually changed my life from one cast in frustration to one of purpose ~ Catherine Pulsifer
It is important to remember that the world is still full of abundance, as it always has been. There is enough available for everyone and your happiness does not have to come at the expense of anyone else. We are all on different paths and at different stages of life, so focus on where you want to go this year, and the next, and what you want to achieve in the future. Be open to new ideas and opportunities. Take small steps. Persevere.
We can be creative as we adjust to settling in a while longer for what will become the next stage in our 'new normal.' Much of our lives will continue to be virtual and socially distanced, however, it is okay to dream of great adventures and exciting new opportunities.
You can always amend a big plan, but you can never expand a little one. I don't believe in little plans. I believe in plans big enough to meet a situation which we can't possibly foresee now ~ Harry S. Truman
Create new affirmations and set new intentions that cement your desires for the future. Refer to them a few times each day. Make time to meditate daily, even if for only a few short minutes, in order to help you remain centered and grounded before the start of your day. You can ask questions in your silence and wait for answers. Look to Spirit for guidance and support.
Ultimately, we are responsible for setting our own course in life. We can choose to do it with love, compassion, energy and excitement. One way or the other, the days, weeks and months will go by, so we can put this time to good use. When we exude love wherever we go and give thanks for what we have, we will soon see that we are able to smile more and worry less.

About The Author: Monica

"What you think about, you bring about; what you believe, you become." This is Monica's philosophy, derived from her twenty-five years of experience as a Clairvoyant, Light Worker and Medium, living in Ontario, Canada. Monica has been a guest speaker at various Spiritualist churches, conveying Spirit greetings and messages from loved ones during Sunday services, All Mediums Nights, Healing Services, Meditation Services and special fundraising events. She's been an advisor to several international business leaders and connects with all of her clients on a level of love light and empathy. She delivers messages containing ideal outcomes and positive solutions with the help of her guides. If you'd like Monica to help shape your destiny, you can find her at PsychicAccess.com.