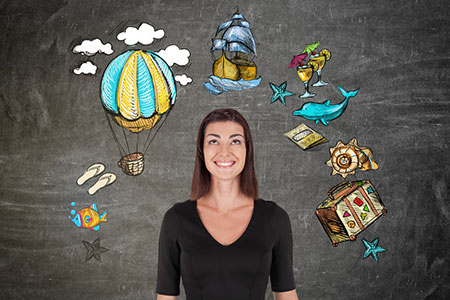 The belief some people have that manifesting is difficult and complex, or requiring much effort and resources, may stop them from taking action with something they truly need in their life. If you urgently need something special, or just a bit of good luck in your life, there are a few things you can do right now to make that happen.
Visualization
The first method is visualization, which is simple enough. Just relax, close your eyes and imagine how you want a particular situation to go. For instance, you can imagine having a positive conversation with your boss that ends with him realizing you really deserve that vacation right now, or that raise, or even that promotion. Okay, maybe you deserve all of that, but let´s start with just one of those outcomes for now!
The important thing with visualization is to feel as if you already received what you desire – to feel how your body and mind accepts the new reality. If it seems too difficult to accept, this might be part of the reason why you do not have it yet. Therefore, it is important to start practicing deliberate manifesting with those things that you honestly want, and feel are not too difficult for you to accept.
Finish your visualization with a positive statement of intent, such as, "May it be so, or something better for all." Then open your eyes. This could be done in just a couple of minutes, with some practice.