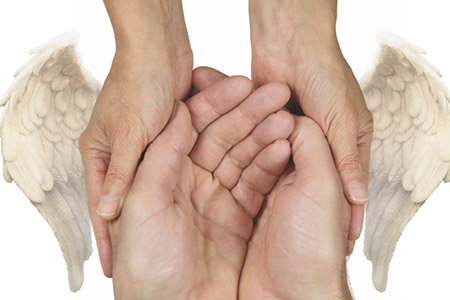 The first time I heard of a doula, I had no idea what it meant. I soon discovered that it is a person trained to provide guidance, emotional support, and physical comfort to a mother before, during, and after childbirth.
But little did I know at the time that a doula can also be someone who is of service to dying.  So, a doula may assist us coming into the physical world, as well as leave the physical world. What a wonderful profession to be called to assist in the miracles of birth and death.
As a psychic medium, talking to loved ones who have crossed over, I have come to understand that some people definitely prefer to be alone at the time of death. My own dad was such a person. He made it clear to us this was his dying wish.
Several people kept vigil at his bedside for three weeks, but the moment we all were away to change clothes or eat, was his opportunity to 'check out.' As in life so be it in death, my dad was a very private person.
His hospice room was right across from the elevator. When my mother and I stepped off the elevator, I heard my dad take his last breath and I sensed and felt his spirit exit the building. But I also know he was not 'alone,' because his loved ones, guides and angels came to greet him.
So, how does an end-of-life doula help with this process? A doula is there to help the family as much as the person passing. It is my belief that it is a deep honor to be present at a birth or a death. I have had the privilege to be present at all three of my granddaughter's births. I have also been present at several deaths.
Both are times when emotions are running very high. At a birth everyone is anxious until they hear baby's first cry. They are on edge waiting to hear baby and mother are both fine. A doula can help explain what is going on and answer questions about the birth process.