Contact After Death – How Long Does It Take?
Published
January 7, 2013
|
By
Shani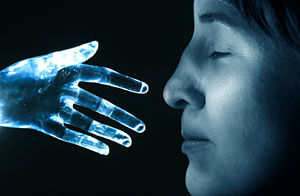 I have been asked how long it takes a soul, recently crossed over, to come back and connect with a loved one. This is particularly a concern for those souls who depart in a violent manner or through illness, and often at a young age.
I've learned through experience that the actual time in our Earth time can be different from soul to soul. It tends to depend on the belief system of the person prior to them returning to spirit, because if they didn't believe there would be a time of 'orientation' to their new surrounds.
Sometimes people will come to me for a mediumship reading hoping to connect with a loved one who recently passed away, and they would be disappointed when they don't get any messages from the individual they had hoped to connect with. Fortunately, they are often relieved when another family member or friend comes through for them, usually with a message about their recently departed loved one.
Perhaps they are not stars, but rather openings in heaven where the love of our lost ones pours through and shines down upon us to let us know they are happy ~ Eskimo Proverb
I have found two to four months to be the average time, before those recently departed are able to connect with us. In the case of my father, he first connected through my monthly circle after two months of his passing to spirit in December, 2005. Some can make contact much sooner than my father, which was the case with Derek, the husband of Mary, a friend and client of mine.
Derek was a very spiritual man with a terrific sense of humor. Two weeks after Derek's passing, I was hosting my monthly psychic circle. Much to my surprise the first visitor was Derek, and he came through with expressions and the humor which was undoubtedly Derek. I phoned Mary right after our session to tell her Derek's news and I was still a bit shocked at the suddenness of his visit. Mary said, "Oh, that's good, he said he would be coming through, and he told me he would connect through your circle today". I never knew this was Derek and Mary's little plan, but I was delighted to be the unsuspecting medium!
A new client, who came last weekend, was a first in terms of a speedy connection from spirit. She came for a reading and even though she did not mention him to begin with, she was going to ask about her father at the end of the session. We were seconds into our reading when I had to tell her, "Your dad is here and he is with your mom, and he is surrounded by pets and farm animals". My client burst into tears. Her father died just two days before our sitting. Yes, he was a very spiritual, kind and non-materialistic man. I guess he adapted to the other side immediately?
I always advise my clients before a sitting that they should have an open mind, because I have found that if they want to hear certain things from a loved one who has passed and are very uptight about expecting to hear that which they want to hear, there is a tendency to block the flow. We get what we need to hear and if our loved ones aren't always forthcoming with help in our struggles, it could be that we need to figure out some lessons ourselves in our schoolroom here on Earth.

About The Author: Shani

Shani is a qualified practitioner in Reiki, aromatherapy, reflexology, body spin, and animal telepathy who received psychic development training at the Arthur Findlay College of Psychic Research in England. A published writer, her articles and predictions have appeared in several respected magazines and on psychic websites, and she has read for many celebrities and even heads of state in Africa. Because of her empathy, people find it easy to connect with her. Every month, she attends a psychic circle and the information that comes through from Spirit never ceases to amaze everyone present. Though she was born in London, Shani has traveled the globe and has studied the art of African Mysticism, bringing her unique flavor to those seeking her incredible talents. What she has taken away from her many travels abroad, is that there is always a sort of longing clients have to be connected to the source of their being. Get a reading with Shani at PsychicAccess.com.


Posted in

Afterlife, Life Design, Mediumship, Metaphysics, Paranormal Phenomena, Psychic Phenomena, Psychic Readings, Spirituality
|
Tagged

afterlife, beliefs, clairvoyance, communication, crossing over, death, faith, family, father, illness, medium, mediumship, mediumship reading, parents, planet earth, psychic medium, psychic reading, psychic readings, reading, religion, soul, spiritism, spiritual messages, spiritualism, spirituality, the other side, time
3 Responses to Contact After Death – How Long Does It Take?
This site uses Akismet to reduce spam. Learn how your comment data is processed.