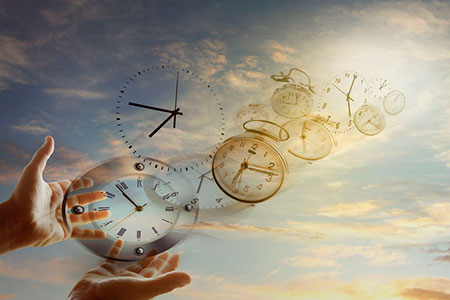 I attended a lecture at the Arthur Findlay College of Psychic Research in the United Kingdom many years ago, during which I recall the speaker saying, "There are no clocks and watches in the spirit world."
He explained further that those of us who do psychic readings must bear in mind that as much as our spirit helpers do their best to give us some indication of time-frames, timing can actually be very tricky.
He also emphasized how we tend to get obsessed with time in our world. While we are constantly racing against the clock, our 'inner states' change over time. Sometimes, we may feel that we are beating the clock, and it feels empowering for a while, but there often comes moments when we wish we had more time to 'just be' and to feel connected to the very source of our being. To truly feel the state we are in.
When we are fully aware of the state we are in, for example the beginning of depression, we are able to process it and deal with it, instead of 'chasing our tails' until our mind and body eventually forces us to stop… and really feel the discomfort!
More importantly, when we return to the spirit world one day, our environment there will not be determined by time, but by the state we are in when we leave our current physical body.