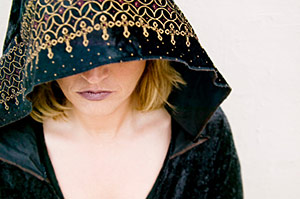 The High Priestess is the third card in the Major Arcana but is numbered as '2′. It's because The Fool is associated with and numbered as '0′. The empowerment and insight shown in The Magician needs its' other half, or female counterpart, the high priestess to realize its' full potential.
While The Magician works with his magical tools laid out in front of him, the High Priestess possesses the gift of inner magic, or intuition. This is one of the cards that are associated most strongly with intuition, destiny, and psychic ability. This card is associated with the Moon and also represents the strength, insight, and divine wisdom associated with the feminine energies. Read the rest of this entry »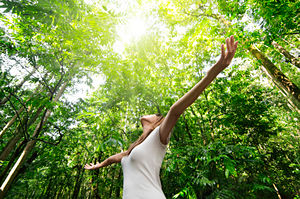 Early in life I looked for comfort in nature. As a rejected only child (my parents wanted six sons), I was often wandering on my own in nature's garden. Long-term friendships did not exist, because my dad was in the military. We moved as much as seven times in nine months. Nature was my trusted playmate and my elder teacher.
My strong religious upbringing gave me cause to read a great deal, but dual faiths in one household sent me mixed messages, so I questioned everything related to the patriarchal faiths of my parents. Read the rest of this entry »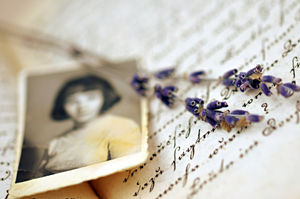 This is a letter to my daughter – if I had one, that is. But I don't. So, this letter is to her, the daughter I might have had, and also to those young ladies I have known over the years who I have felt were like daughters to me.
My daughter's name would have been Chantal-Marie, should she have been born. I suppose I could have had her, but life took its course and time slipped away. I was too busy mothering myself, I think, and I couldn't have mothered her, in retrospect. But hindsight isn't always 20:20 – don't let anyone fool you.
So here goes. Strangely enough, I feel as though I were on the edge of a precipice as I write this. It is a most unexpected feeling. Read the rest of this entry »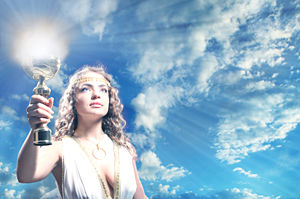 <<< Continued from Goddess Archetypes: Aphrodite
Persephone, also known as Proserpina, is one of the vulnerable goddesses, because she was so intertwined in relationships – first with her mother Demeter, then later with Hades.  First, before her transformation into Queen of the Underworld, she was the Kore or Maiden. As Kore, she was a slender, beautiful young goddess, who is associated with fertility symbols such as the pomegranate, grain, corn, and narcissus, the flower that lured her.
As Queen of the Underworld, Persephone is a mature goddess who reigns over dead souls and guides the living who visit the underworld. She was the prime figure in the Eleusinian Mysteries, in which the Greeks experienced the return or renewal of life after death through Persephone's annual return from the underworld. Read the rest of this entry »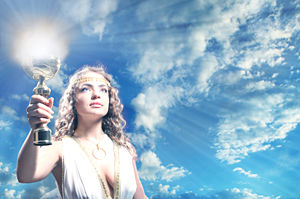 <<< Continued from Goddess Archetypes: The Goddess In Every Woman
Aphrodite is the goddess of love, beauty, fertility, creativity, sensuality, and even healing. She is totally alchemical and transforms anyone in her presence, as would an artist in any genre, a lover,  or a therapist or healer.
Her symbols include doves, swans, roses, apples, and anything with a golden aura. In her liaisons, she was paired either with Ares, god of war, or Hermes, Messenger God who guided souls to the underworld and who was the patron god of travelers, athletes, thieves, communicators, and musicians.
This archetype governs women's enjoyment of love and beauty, sexuality and sensuality. The realm of the lover exerts a powerful pull on many women, and she impels women to fulfill both creative and procreative functions. Read the rest of this entry »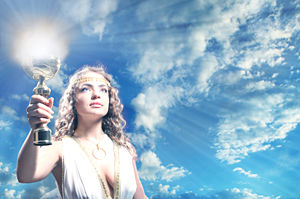 Archetype is a term coined by the great Swiss psychologist Carl Jung, and he described them as ancient and archaic symbols or prototypes that derive from the collective unconscious (the causal or mental body). Plato also spoke of archetypes, the eidos or ideas which were pure mental forms imprinted on the soul before birth.
The archetypes are innate universal psychic dispositions which form the basic symbols of the unconscious and form a dynamic substratum common to all humanity. Each archetype exists as an inherited potential in each man, and can be actualized when it enters consciousness as images or manifest as behavior.
In other words, we could say that fundamental human behavior is not individual, but rather universal. We are acting out universal patterns that exist in the subconscious mind of all of humanity. Read the rest of this entry »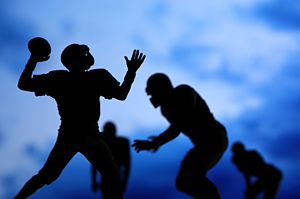 Friday night football is bigger and better in Ohio. Where I live everybody knows it is the best place to get away from your everyday work and enjoy the sports under the stadium lights.
My wife and I go with my in-laws, my sister in-law and my nephew to every home game where my nieces are performing as cheerleaders. We usually go to the top of the stadium to the far left, as far as we can go for the best possible view.
Last Friday night at the football something happened to me that I never ever thought would happen to me. An angel appeared to me and talked to me. She looked like a human in the flesh.
I often play an 'astronaut' game with my nephew at the football game, to try and keep his attention, while I watch the game the same time. Read the rest of this entry »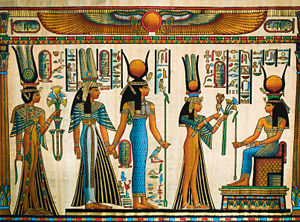 Goddesses have been around for ages and come from all parts of the globe. The following are some African Goddesses that you can call upon for specific rituals and prayers. Some of these Goddesses you may already know, and some may not be so familiar.
Mawu - Great Earth Goddess of the Dahomey tribe in Northwest Africa, who created humanity with clay and water.
Menos – Moon Goddess credited with invention of writing.
Hathor - The Great Celestial Cow Goddess of ancient Egypt. Creator of the world and all it contains. Protector of women, She is the Goddess of love and joy, the mistress of merriment. She is the sovereign of music and dance and the weaving of garlands. She often places Her spirit in the sistrum, a sacred rattle which drove away evil spirits. Read the rest of this entry »