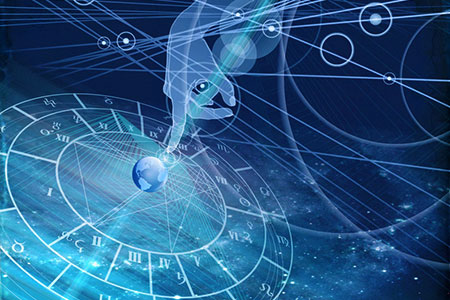 We initially could find ourselves more interested in socializing than working today, as the Moon moves through Sagittarius, but later in the day it transits into Capricorn to inspire us to be more productive for the next three days.  A Capricorn Moon tends to make us feel more serious and determined and we tend to be more focused and able to concentrate.
Ideally, you may want to tackle as much as you can by Wednesday, as things will start to go somewhat sideways when the Moon moves into Aquarius on Thursday. We can pretty much write off the rest of the workweek after that, as constant interruptions, unexpected work, and a sudden shift in direction are all aspects of this Aquarian Moon. Mercury being in retrograde for another week will not make things any easier either!
Friday promises to be a happy and harmonious day with the Sun in Libra trine Moon in Aquarius. This aspect is also known for a sense of vitality, health and well-being, so make the most of it with an early morning walk or run, and a healthy breakfast. If you have the day off, you might even consider a visit to the spa.
Mercury in Libra sextile Venus in Sagittarius will continue the upbeat trend on Saturday evening with a cheerful lightheartedness and inspired creativity. A good time to get back to finishing that art or craft project you have been procrastinating. The weekend will generally prove much calmer when the Moon travels into Pisces and slows outer movement. Going within, self-care and 'me time' will be the theme.
Jupiter goes direct on Sunday, and as the third planet to resume forward motion this month, a sense of order and peace will move us through the rest of October. Remember that Jupiter is all about expansion, growth, and gifts, so practicing gratitude and asking Spirit for direction will go a long way once this planet starts moving forward again.