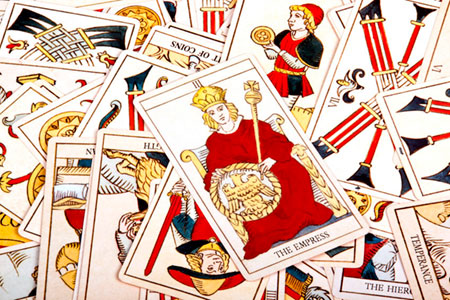 During my psychic Tarot readings, I often ask my clients for the month, day, and year of their birth, so that I can equate their Tarot lifetime archetype and current year cards. Tarot numerology has always been spot on in my readings, and it has also been accurate on a grander level, when looking at the current year in general.
The year 2019, when added across calculates as 2 + 0 + 1 + 9 = 12, which reduced equates to 1 + 2 = 3. These numerological calculations of 12 and 3 correspond to two cards in the Tarot.
The first is The Hanged Man (12), that often shows up in s spread when there is a sacrifice to be made, hold-ups, the need to let go of hang-ups, seeing life from a different perspective, or an overall feeling of waiting in general. This state of limbo is often seen as a voluntary sacrifice for a greater cause on a more macrocosmic level.
The Empress card (3), represents fertility, pregnancy, motherhood, female entrepreneurship, or mother to the son in the Hanged Man card.
What could these two cards be saying on a numerological level about 2019? I thought about this on New Year's eve, as we were crossing into 2020. What sacrifices did we make on a personal level in 2019, as well as on a worldly level?
It appears there was a division of opinions on a mass scale, about many different topics, as well as a need for us to look at the 'hang-ups' that we were holding onto, and to see them from an outside perspective. Humanity, as a whole was in a way, on hold and pregnant with what we will give birth to this year, in 2020.