Weight Loss Astrology Using The Moon Phases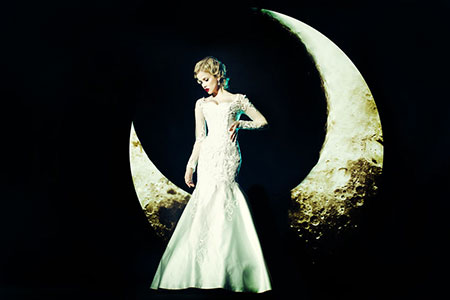 The past winter has been especially tough on all of us. Many of us are experiencing some form of pandemic fatigue or cabin fever. We've baked all our cookies, ordered junk food deliveries, and did the experimental microwave recipes during lockdown. And many of us have put on a pound or two, or more, for sheer comfort's sake!
But now we're finally beginning to look ahead again. Spring has sprung here in the Northern Hemisphere and the climate is warming up. We wanna wear less and it's time to get serious about figuring out how to achieve our best Summer 'beach body.'
In my own search for weight loss inspiration, I discovered a great formula for women devised by sports nutritionist, astrologer and weight loss guru, Kira Sutherland.
She recommends a diet lasting 12-14 days, starting with your menstrual period. This is apparently the absolute best time to lose weight. Then you stop and return to normal eating, even allowing yourself some well-earned treats. Even I can do that!
If you don't experience a monthly flow, a bit of astrological research will be needed to follow this diet. If you don't have your natal birth chart available, or don't know how to interpret it, you may need to consult a professional astrologer.
What you're looking for is your Natal Moon Phase Cycle, from New Moon to Balsamic (no, not the salad dressing). At birth, we fall into one of eight cycles of Moon-to-Sun connections that define our Natal Moon Phase.
Once your phase has been determined, it's time to check out the Ephemeris to note when the transits in the sky mirror the same Moon Cycle that is in your natal blueprint. And when that blessed event occurs every month, it's time to punch the stop watch and begin your two week Kira Sutherland diet!
After 14 days, stop. You're done for now. Relax the diet and stop weighing yourself for the next two weeks. You deserve a reward for all that hard work and sacrifice, so feel free to live your best couch potato life! Once the lazy two weeks are at an end, you can begin again on the next moon phase cycle, or at the start of your next period.
Oh the wonderful knowledge to be found in the stars. Even the smallest things are written there … if you had but skill to read ~ Benjamin Franklin
Kira's brilliant theory is that during the two weeks of a Waxing Moon, or the initial two weeks of our period, is the time we are naturally the least hungry and our female hormones are at their lowest levels. This is when we can build serious muscle.
And, using the same rationale and formula, from the Full Moon to the New Moon cycle, our female hormones are at the height of their levels. This is when we want the 'pizza with Smores toppings' or find ourselves hitting that experimental microwave again! Also, don't bother to hit the gym at this time. In other words, why fight the tide of hormonal weight gain, when all you'll achieve is frustration and zero results in the gym's free weight section.
And that's how Astrology help women lose weight by harnessing the cycles of the Moon. Who knew, right?

About The Author: Tracey

For 11 years, Tracey's predictive practice has taken her down the rabbit hole, where she's amped up her intuitive gifts by mastering new tools that are accurate and cutting edge. She began with Tarot, Numerology, Soul Path Energy Clearing and Natal Astrology, reading for her one-on-one clients in her private practice, at fairs and festivals, and at private parties. Her newest technique, Horary, is popping up on new apps and on social media. Horary is a predictive and magical form of astrology like a psychic reading, with a chart cast for the moment and quickly read by a highly trained practitioner in the art. Tracey currently lives in South Florida, but she maintains a busy practice with clients situated mostly in Los Angeles, NYC, Chicago, Atlanta, and Palm Beach. Past clients she has worked with include a well-known Disney actress, a comic book icon, an Emmy nominee, a luxury hotel entrepreneur, and the founder of Ben and Jerry's ice cream. Tracey was asked to be part of a panel for an exciting new YouTube series sponsored by the prestigious Wessex Astrologer. She is also a successful sci-fi and fantasy author with a new book recently released to rave reviews. You'll have a magical trip when you hop aboard Tracey's exciting Horary bullet train leaving the station at PsychicAccess.com.