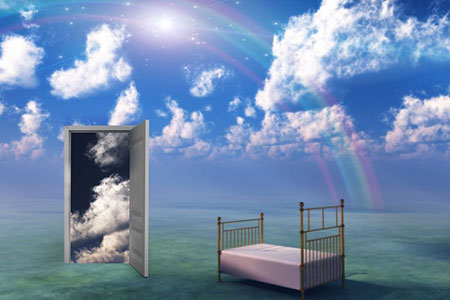 Dreaming is a universal human experience, although we do not fully understand how or why we dream. In a spiritual sense, a dream is our soul interacting with the boundless, greater Universe where things may not always make sense as they do when we're awake, and where this time-space reality does not exist.
Whether we consciously remember our dreams or not, dreams can add profound depth to our everyday spiritual practice. A clairvoyant dream or precognitive dream, for example, can predict events in the future or make us aware of upcoming life challenges. One might dream of the arrival of a long-lost friend, a financial windfall, or meeting a new romantic partner.
Clairvoyant dreams can sometimes be distressing, especially since these dreams sometimes precede a tragedy. Mary Todd Lincoln, the wife of Abraham Lincoln, had such dreams before the famous U.S. president's assassination. Many people also reported clairvoyant dreams of contemporary events like 9/11 and the Challenger disaster.
But don't think these dreams are all doom and gloom. If you are given such insight in a dream, see if there is any way that you can make use of it for the greater good.
No doubt many of our dreams can be truly intriguing. However, popular culture and movies often create unrealistic expectations of psychic phenomena and the nature of dreams.
The most important thing to keep in mind when it comes to precognitive phenomena is timing. What you've foreseen in a dream may not necessarily come to pass any time soon, or when you're expecting it – perhaps not even in this lifetime! The Universe always has perfect timing.
When it comes to psychic phenomena and metaphysics, it is important to keep an open mind. Always be on the lookout for daily clues. Spirit is subtle and it easy to overlook something in plain sight. That 'Mr. Right' you foresaw in your dream might just run into you when you least expect it!