Posts Tagged 'synchronicity'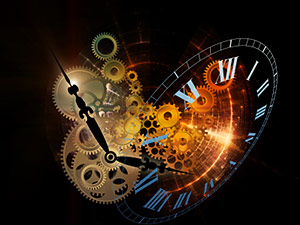 Delay is sometimes more important than we realize. We often berate ourselves for not doing something on time, perhaps it's not going to visit someone, or not picking up the telephone to make a call to someone who might feel better just knowing that we care, but there are always reasons for delays.
Very often we can't see it, but there's a plan at work in our lives and the lives of every individual on this planet. When we try to force things to happen, they often don't do the good that we anticipated they would. This is because there is a perfect time for everything, and in our eagerness to think that we're important we can ignore subtle clues that the universe is giving us. Think back on your life. Very often, when you have kept postponing doing something, or something hasn't happened in what you might have considered to be the 'right' time, it has worked out perfectly anyway! In fact, probably more perfectly than you could have imagined. Read the rest of this entry »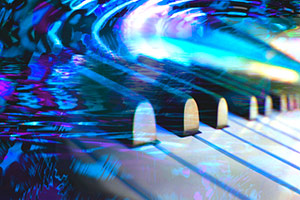 I've always loved music. Besides being soothing and an all round mood and energy shifter, it's been used to communicate with others since the dawn of time. I will frequently get a song in my head in two specific ways: some are from my mother; and those that are not from my mother. The 'mom songs' are Sunday school songs, the "not from mom' songs include everything else.
Popeye the Sailor sang a song, "I love to go swimming, with bowlegged women, and swim between their knees". One day I woke up to that song in my head and couldn't figure out who, why or what? I kept coming up blank. I knew that I knew the song from the past, but I couldn't remember exactly where I knew it from. Read the rest of this entry »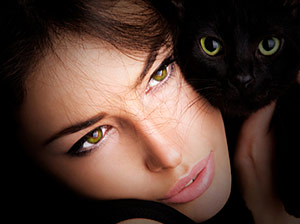 Two weeks ago, while going about my Sunday morning routine, I spotted an unfamiliar cat roaming around my garage. I watched it for a while to see if it was our neighbor's cat, but it wasn't.  It looked like it was a kitten so I went outside to give it some food.
I took the food outside and it hid from me, but as soon as I came back in I spotted it devouring the dish I had set out. It was then that I realized that not only was it a kitten, but it was a badly injured kitten. The side of its neck was red and infected with the skin and fur still attached. It looked to be in very bad shape. Read the rest of this entry »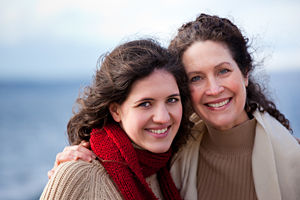 We all know people who have come in and out of our lives at just the perfect time to say just the right thing at just the right time. Some of these wonderful people may have stayed in our lives, or perhaps left just as quickly as they came.
I have had several experiences with Earth Angels, but looking back maybe they were not of this earth at all. When I think of Earth Angels, I think of one person in particular and that is my Mother. My mother has taught me many things that has helped me in my life. She has taught me the fruits of the Spirit by applying them in her life.
So, with this blog post I simply wish to thank my mother for being present in my life. Read the rest of this entry »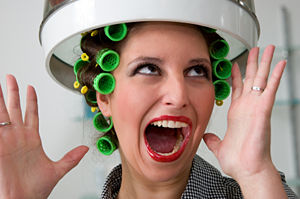 Albert Einstein coined a number of wonderful sayings about the intuitive mind. This one though, is my personal favorite: "Coincidence is God's way of remaining anonymous".
It reminds me of when you get in sync with the Universe and everything just starts to flow, or when the opposite appears and nothing goes right and you face numerous 'dead ends'.
Lately, I've been doing a lot of work with intentions, and "I am" statements. The effort seemed to pay off in multiples around the end of last year. A couple of days before Christmas, both my daughter and I needed haircuts. Normally, we book back-to-back appointments, but around that time of year, especially right before a major holiday, unless you had scheduled it long in advance, you can forget about it. But we were in luck – they had just had a couple of cancellations. Read the rest of this entry »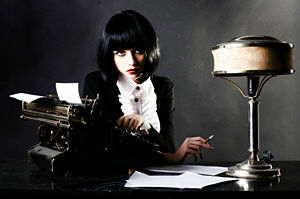 I sometimes get the impression that ghosts or spirits play jokes on us to get our attention. I was watching a 'ghost hunting show' last week on television and they had a section about items going missing in haunted homes. My wife said it reminded her of the time when the same thing happened with my mom's silverware set after she had passed away. Mom certainly made her presence known in this way.
My in-laws gave us many gifts for Christmas this year, and one of the gifts was lamp. Interestingly, for the past six months I began buying several small lamps at thrifts shops and yard sales. I never used to have such a penchant for lamps, but now I own a total of six – including the one we received as a Christmas gift. Read the rest of this entry »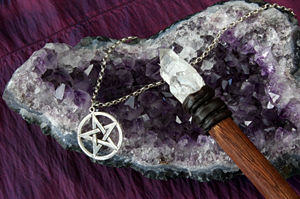 It is said that "the wand chooses its master" and this is the story of how my wand came to be with me.
Several years ago I worked as a full-time reader at an area psychic store. I loved my job and my clients. The location was perfect and I looked forward to going to work every day. One special day, however, was the start of my journey towards receiving my magic wand.
It started as a normal day with clients coming in to see me, psychic readings to do, and books to marvel at and glance through.  I'd had lunch and was sitting in my room preparing for the afternoon's arrivals, when I heard the jingle of the front door.
I knew, somehow, that the jingle was meant for me, although I wasn't expecting anyone for at least another hour. So, I got up and walked towards the front of the store and there was a short, and forgive me for saying it, rather unattractive and ordinary looking man standing there looking at me. He appeared ordinary until you looked into his eyes. They contained wisdom – and something more. I eventually learned that the 'something more' was a certain disdain for the human race, but that's another story. Read the rest of this entry »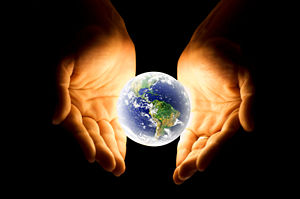 A great portion of my work crosses over into ethics. I have spent the last two years studying business, law and relationship ethics. Through the Internet I became aware of global patterns and became fascinated in the migration of emotions, the origin of the global psyche, and the way people like bees work together en masse.
It has been essentially an interesting informal foray into organizational behavior versus conscious thinking. I still am working on trying to understand if patterns originate from one point – like one idea or one feeling – the Big Bang of the zeitgeist or zero-point of the global consciousness. My other idea or interest relates to the notion of whether this zero-point consciousness – the origin of man's culture is created by multiple ideas and feelings, and if so, if one can escape this matrix of ideas and to be truly independent. Read the rest of this entry »