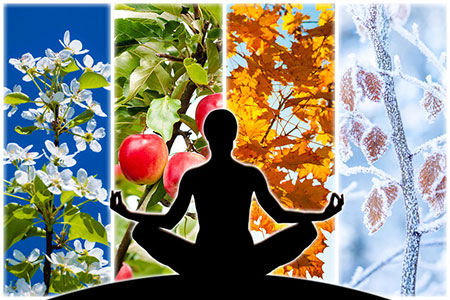 Ecclesiastes wrote, "To every thing there is a season, and a time to every purpose under the heaven." When things feel out of balance in one or more aspects of your life, be it in your relationship, career, finances, health, or spirituality, it may be time to look at the season you are currently experiencing.
The question you need to ask is: what do you need for this season of your life? For this you need to quiet your mind and listen to your inner guidance to get the answers.
We are often so busy with our schedules and responsibilities and that we have little time to look at what season of life we are in. Are we stuck in a season? Are we making progress or not? Is it time to maybe move to a new season in our life?
No matter where we find ourselves, there are usually adjustments to be made. Rather than staying on autopilot, we must take stock and identify the season and the areas in our life that need attention. What needs doing, or not doing? Is it maybe time for an important life transition? Is it a time to plant seeds, nurture what has been planted, branch out in different directions, reap the harvest, or time to rest before the next cycle begins?
Various cultures and spiritual traditions all used to observe certain rituals that mark the seasons of life and the rites of passage. These days we might eengage in some of these practices, but for the most part we are simply pulled along by the next thing expected of us.
We may think to not worry about any of it now, because there will be time for it later, but often it just falls into the cracks. It's up to us to find where we are in our current season and think about the next rite of passage we need to observe or celebrate.
When we move into a new season of life in a particular area, we must celebrate where we have been, before moving on. We must put in place a small ritual to mark this on our path. It can be simple as a prayer of thanks or act of gratitude. Write an entry into our journal or find a piece of art and keeping it nearby to encourage you.