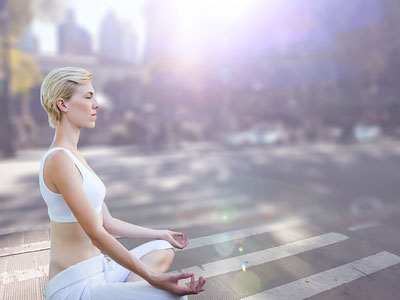 The reason you are able to create a less chaotic reality for yourself than possibly your neighbor is experiencing, is because when you are tuned in to all of the resources that are always available to you it allows you to open up and receive Divine inspiration.
Your clairaudient, clairvoyant, clairsentient abilities are continuing to evolve and expand. When you open up to receive all of these gifts you are allowing yourself an easier transition into the New Earth energy and the rising of the New Consciousness.
Not only are you able to be a lighthouse for yourself and your space, enabling a less intense experience, but it also enables and allows those you are connected to a smoother transition. Read the rest of this entry »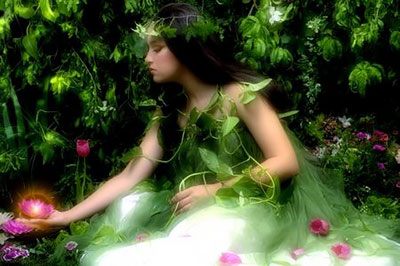 Faeries love fun and love to play! When you are experiencing a creative phase, or feeling called to go outdoors, or into the garden, there's a good chance you are being called out to have some fun and free spirited playtime with the faeries.
Typically, faeries, or fae, are easiest for us to connect with during the times of year when seasonal energy portals are open on the cross quarters holidays of the Summer and Winter Solstice, and Spring and Fall Equinox. These times are traditionally also celebrated in the ancient pagan festivals and religious holy days of Imbolc (Saint Brigid's Day) on February 1st, Ostara (Easter) on March 21st, Beltane (St. Walburga's Day)on May 1st, Litha (St John's Day) on June 20th, Lammas (Loaf Mass Day) on August 1st, and Samhain (All Saints' Day) on October 31st. Read the rest of this entry »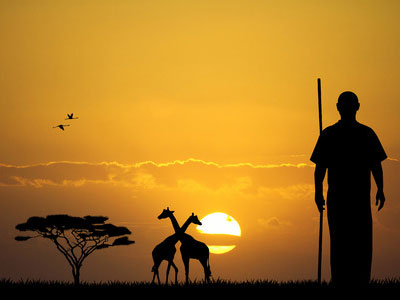 During the time of my ukuthwasa (period of initiation to become a traditional healer or sangoma) some decades ago in Southern Africa, my mentor and some other village elders would join our group of ithwasa (sangoma trainees) by the campfire and discuss other spirits. That is, others in addition to those of our ancestors.
We heard many tales of other spirits who control the rivers, oceans and lakes, as well as those who live in the sky and control the rain. There were also stories told of sacred places where spirits inhabited mountains, trees and rocks. I loved hearing those stories from various individuals whom have had unique experiences and felt they had seen and communicated with those various spirits. Read the rest of this entry »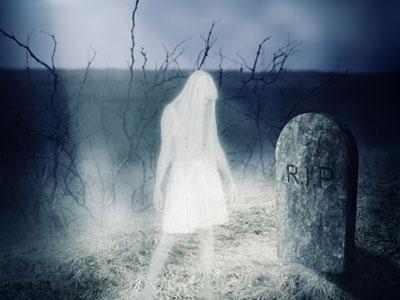 We would like you to understand that on this planet Earth you have chosen to experience duality. And within your framework of duality you have created negative and positive. You have created good and bad. You have created darkness and light.
Part of your awakening and unfoldment toward enlightenment is your ability to transcend your creation here on planet Earth, and to be in complete and total alignment with your highest truth, and that of God, and of the Universe.
As we have spoken before, you are an extension of all that is beyond the planet Earth, but as you are functioning as a human being at this time, we would like to discuss your creation of malevolent and benevolent beings, entities, ghosts, or earthbound spirits.
Just as there is good and bad on planet Earth, and in your reality experience as a human being, so too have you created good and bad within the dimension that surrounds you, the earth plane. You have also created spirits, or ghosts, or 'trapped energy' if you will. These are spirits or energies that have chosen not to go into the light. These spirits or energies can influence and interfere as you choose to allow, or deny, in the same way other humans can influence and interfere in your life, if you allow them. Read the rest of this entry »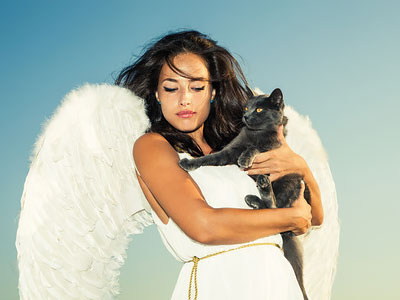 "You have four beautiful angels with you, and you aren't even communicating with them!" These were the words of another psychic at a psychic fayre I was working at several years ago. I had never met him prior to this particular event, and he shouted those words at me as I was walking through the entrance towards my designated work table, to get ready to set up.
And he was so right. As much as I still vividly recalled my vision of angels when I was nine years old, and as much as I was using angel cards in my own readings, and constantly telling my client aware of the angels all around us, I hadn't been speaking much with my own angelic team. Read the rest of this entry »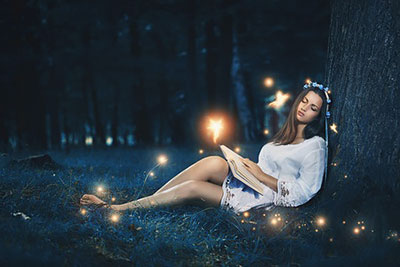 Whether it's ghosts, shadow people, Tall Man with a Hat, The old Hag, or pixies, we've all experienced mystical beings in some form or another. Some of us have had minor insignificant encounters, while some of us deal with these entities every day. And, there are those who experience very violent encounters with some of these beings. I personally, have had my fair share of the worst kinds of attacks. And, I find myself dealing with the mischievous little pixies almost daily.
If you don't know what a pixie is, let me explain. They are little spirit beings. About the size of a dragonfly. Some suggest they are cute little fairies, such as Tinkerbell in Peter Pan by JM Barrie. Others depict them as gruesome and very disturbing to look upon. I honestly can't say for certain, as they move so quickly I have never gotten a good look at one of them. Read the rest of this entry »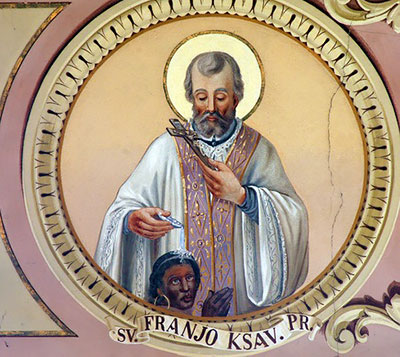 Spiritual mediums often work with spirit guides. Some work with only one guide, while others have several guides assisting them. I have many guides around me. They help move my psychic readings quickly and help get the answers and information people need.
The first of my spirit guides I knew about were Ishet, Ohkona, Nastar and Chadly. Ishet is a female guide of the Egyptian dream temples. She gives me balance, perspective, and understanding of the human mind. Okona is a male native American, who guides and guards me on my path. He gives me strength and perseverance. Nastar is my runner, and helps set up situations ahead of me, such as perhaps guiding a client to me, or even a simple task, like having a parking space available near the front door of a destination. And then there is Chadly, who is a nature guide. He comes through as an old, rough frontiersman, buckskins and all, he brings me humility and greater awareness in connecting me with all things natural. Read the rest of this entry »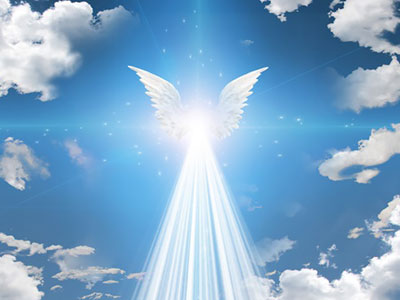 Angels are here to support, guide and comfort us in our daily lives, not to live our lives for us, or make decisions on our behalf. We grow in strength, wisdom, character and self-esteem when we face and overcome challenges.
There are of course many stories of angels intervening in life-threatening situations, which is wonderful. This phenomenon has been well-documented.
Over the years, I have seen time and time again that some of the key primary purposes of the angels in our lives is to remind and reinforce for us that we:
are not alone;
we can and will overcome the challenge that is in front of us at the moment;
we can link back into the best part of our hearts, which is where our true strength lies. It is that part of us which they hold sacred for us.