Seasonal Crystals To Prepare For The Spring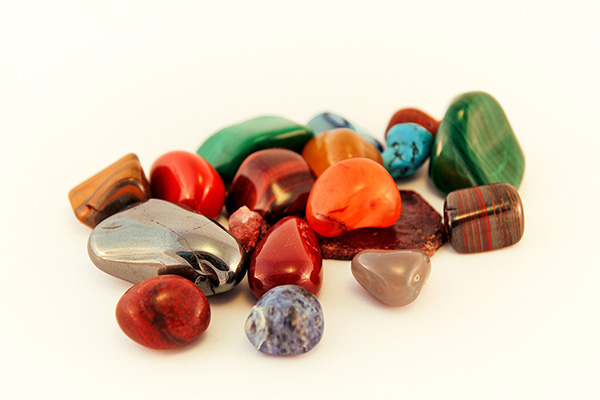 The second half of the winter season, after the solstice, is an ideal time to establish new patterns and laying the groundwork for the coming spring and summer. Now is the ideal time to start adopting healthier lifestyle habits and plant spiritual seeds that will bloom in the months ahead.
Crystal that pairs well with this kind of winter energy work is clear, transparent quartz. It is a metaphysical staple for many practitioners, regardless the time of year, as it facilitates mental and emotional clarity and helps clear out negative energies. However, like a pristine winter pool of icy water, it also does not tolerate shadows and secrets.
Another winter-friendly crystal is selenite, which resembles an opaque spike of white ice. It acts as a cleanser, sweeping away the painful memories of the past and embracing the transition into a new year. Selenite is also closely associated with guardian angels and spirit guides, so it helps us to tap into their guiding wisdom more clearly.
Warmer, more fiery crystals can also help us generate some sparks and bring new heat to even the coldest, most hibernated of intentions. Citrine, with its inviting citrus hues attracts good luck and prosperity to the bearer. This crystal helps us stick to our goals and fulfill our greater purpose.
If you are wanting to increase your creativity and productivity this year, try fiery carnelian, with its sweltering deep orange and red-brown overtures. Its leading energy associations are inspiration, determination, and tenacity. Also, red or fuchsia garnet (appropriately also the birthstone for January) increases motivation and allows us to manifest our goals and aspirations.
Each crystal has its own particular vibration, and each will resonate differently. Look for one that will resonate with your being — regardless of size, shape, color, or jeweler's quality. It's the intuitive impression which is important ~ Phyllis Galde
If mental clarity and calm are what you seek this time of the year, amethyst is a popular crystal for this purpose and with good reason. It is the perfect stone for 'out with the old, in with the new' leading up to the spring.
Finding the best crystals for your energy work and spiritual practice is highly personal and intuitive. Consider what goals you hope to achieve and what energies you wish to bring (or not) with you into the coming spring season. This will allow you to consciously or subconsciously select the unique stones which will help along the way.
When you find your crystals (or they have found you), remember to do a cleanse and energy charging ritual before you begin to use them. Depending on the energies of the particular crystal, cleanse them in sunlight, moonlight, or starlight. When you are ready, speak your intentions over them and thank the crystals for their energetic guidance, protection and support.

About The Author: Mystic Shelley

Mystic Shelley is a five-star psychic, Reiki healer, clairvoyant and empathic reader. She offers her clients honest answers about past, present and future events with the help of her trusted guides. She reads in the area of love, relationships, career, money and all matters of life. Mystic Shelley was born with talents that would later mark her as a gifted psychic, but she chose not to embrace them early on. In her 30's, a not-so-chance meeting with a celebrated psychic set her on a course that awakened her gifts. Born with the gifts of clairvoyance and empathy, her psychic mentor helped her to expand those abilities, taking her talents to the next level. With experience came proficiency and today she has a growing list of devoted clients who sing her praises. In addition, she's also actively assisted other psychics to open up to their abilities. If you are looking for direct and honest answers get a reading with Mystic Shelley now at PsychicAccess.com