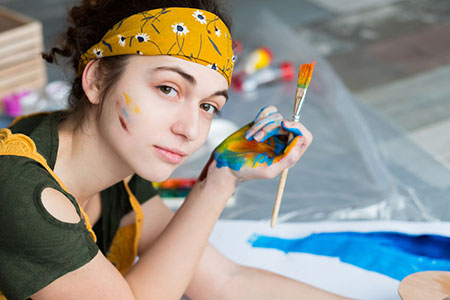 Art is a powerful form of self-expression. It allows us to communicate complex emotions and spiritual concepts through various mediums such as the visual and fine arts, music, dance, acting, creative writing, and so on.
When we are being creative we connect with the subconscious part of ourselves. This can be a powerfully healing experience to help us process and integrate our thoughts, feelings, beliefs and life experiences on a deep level.
When we are children, we don't have any preconceived ideas about art. If you observe young children, you'll see this very clearly. They don't worry about how 'good' an artist they are. Most kids just see art as a form of play. They love to draw, or paint, or color, and are typically pretty thrilled with their creations.
So, what happens along the way that we become so self-conscious about our artistic endeavors? It seems to me that at some point most people have had 'the artist' within subtly discouraged or silenced. Whatever the case may be,suffice it to say that life takes over at some point and being creative artistically takes a back seat.
"I was never very good at it anyway," or "I just did it for fun," are common remarks I've heard from people. But what's wrong with not being very good at something? Especially if it's fun? Moreover, the benefits of spending time being creative are vast! Art Therapy is growing in popularity and more studies are being done around this modality.
One particular study focused on people with chronic illness or cancer. The researchers looked at the impact visual art activities such as painting, drawing, and pottery had on patients and found that art helped to distract them from thoughts of illness.
Art therapy improved their well-being by decreasing negative emotions and improving positive ones. Depression levels were also reduced, and medical outcomes improved overall. There were also reductions in stress, anxiety, and distress. Further there were improvements in the patients's spontaneity, expression of their grief, positive identity and social interactions.