How To Practice The Art Of Gratitude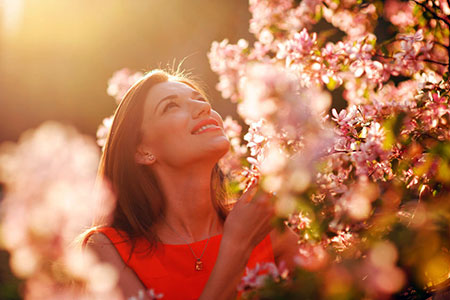 My life has not been without its challenges. Nevertheless, I love my job, have a beautiful son, an adorable husband and supportive friends and family. Therefore, irrespective of current world events, I genuinely have a lot to be grateful for!
Gratitude is beneficial for all of us, including physically, emotionally and spiritually. For one, appreciating the good things in our lives helps us to be more tolerant and forgiving, with a higher sense of life satisfaction. Grateful people also tend to have more hope and inner peace and feel less anxious and alone.
God, Spirit, the Universe loves gratitude! Those who are sincerely grateful are blessed with even more to be grateful for. Like attracts like.
How does one ensure that you practice the art of gratitude ever day? The following guidelines should help:
Seek Out The Positive
In my own personal research into positive psychology, I became aware of something referred to as negativity bias. In case you have not heard of this, it means that our negative thoughts tend to be more dominant than the positive ones.
An excellent way of counteracting this negative way of thinking is to seek out at least three things in your life every day that you are well and truly grateful for. Try to make this a daily habit. By doing so, it should have you smiling in next to no time!
I remember when I was about 26 years old and in a particularly challenging place in my life. I was advised by a psychic, whom I reached out to with my troubles, to watch the film or read the book, The Color Purple by Alice Walker. It is some of the best advice I have every received. Once I had read the last chapter, I felt so grateful for whatever I had in my life.
I would maintain that thanks are the highest form of thought, and that gratitude is happiness doubled by wonder ~ Gilbert K. Chesterton
Release The Past
When we focus on the things we are grateful for, we sometimes become nostalgic and, in the process, allow our minds to wander back to the memories of past negative experiences.
Instead of trying to push those negative thoughts to one side, however, it is wise to acknowledge it instead and, having done so, turn your attention once more to everything you are grateful for in life today.
This is a very healthy habit to get into, says spirit. After all, what we focus on is what we receive. Being grateful for what we have today means we will attract even more of the 'good stuff' in life tomorrow. This is less likely if we choose to dwell on the shadows of the past.
Pay It Forward
Has anyone ever done you such a good turn that you feel somewhat motivated to do the same for others? Well, experts believe that being grateful is closely linked to reciprocity.
By experiencing the benefits of a good deed by someone else, you naturally wish to do the same, even if it is not the person who initially were kind to you.
Rather than indulging in habits that would bring fleeting happiness, such as self-indulgent 'retail therapy,' why not consider volunteering for your local neighborhood charity or purchase something useful for someone who needs it more than you.
Doing so is often also a sobering reminder to us that some people are nowhere near as fortunate as we are. Helping others is a healthy distraction from our own issues in life.
Gratitude is the healthiest of all human emotions. The more you express gratitude for what you have, the more likely you will have even more to express gratitude for ~ Zig Ziglar
Create A Gratitude Board
You have probably heard of vision boards, but why not create a board that reflects all the blessings in your life? My spirit guides support this as being a great spiritual practice.
Dig out some old family photographs of happy events and holiday gatherings you enjoyed with loved ones. Pin these photos onto a board, together with some positive affirmations or inspiring quotes.
For added effect, add some dried flowers from last year's Mother's Day or Valentine's, old movie or game tickets, or even granny's old love letter or handwritten recipe!
Keep your gratitude board in a private place, but also where you can see it regularly, to visually enhance your sense of gratitude.
Keep A Gratitude Journal
Once you find that you have adopted a more positive attitude to life, you may wish to start writing down your positive daily experiences. Journaling is a great form of 'venting,' but writing down and recording positive events in your life are far more meaningful in the long-term.
A gratitude forces you to count the many blessings in your life and can be immensely rewarding when looking back on pats entries.
Gratitude is of particular importance when going through a challenging time in your life, and journaling can be a great way of cultivating gratitude awareness.
However, it is not necessary to journal every single day, because it may become more of a chore than a pleasure. Instead, two or three times per week should suffice, and it is crucial that you make it an enjoyable process.
Refrain from becoming repetitive when logging your experiences. Instead, look for those small things in life that make you so genuinely happy.
It could be as simple as a spontaneous smile from a beautiful baby you saw while out shopping this morning, a bird at your window, or a rainbow after the storm. No matter how small or fleeting the experience, if it made you feel good – write it down!

About The Author: Lucinda

Lucinda is a highly trained Intuitive and Empath, living in a beautiful village in North Yorkshire, England. She possesses the rare gift of understanding a client's personal pain and has been through many challenges, herself, which has only made her stronger! It is both her calling and her happiness to help those in need. And whenever she needs a little help herself, her Guides are always there to assist in her development and provide clear interpretations for her clients. Prediction has always been a great tool she could count on to accurately foretell events, but Lucinda also draws on her expertise with Dream Interpretation, Numerology, Angel Cards, Law of Attraction and Life Coaching to provide full and detailed solutions to any problem. A member of AMORC and Beyond Freedom Evolution, she provides inspiration, education and personal support for spiritual development. If you'd like answers or want to attract your desires, you can find Lucinda at PsychicAccess.com.