Once, Twice, Three Times A Synchronicity!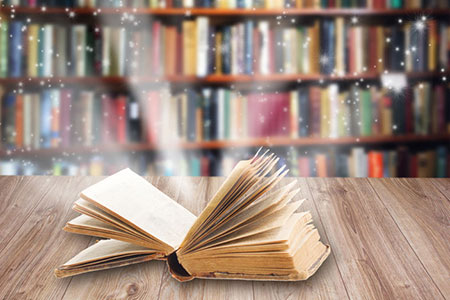 Synchronicities seem to be coming fast and furious these days! These magical 'coincidences' in our everyday world open us up to the Divine Flow, making us feel like we have the key to the 'Matrix.' Is it because our spiritual DNA is changing, or is it simply that our focus is now where it had not been before?
The more we become aware of something, the more it enters your daily experience. But it's also like a boiling pot of water and constantly looking for synchronicities can begin to feel like a guilty obsession.
Of course, many of us are going somewhat 'nuts' these days during the pandemic, and we're searching for deeper meaning while waiting out the crisis. When synchronicities occur these days, they indeed feel like gifts from the gods, and one should never look a gift horse in the mouth.
But that's precisely what I did about three weeks ago.
My daughter is a young and gifted writer and actress. She recently graduated from a prestigious performing arts school, and her first novel was published this year. She also began working as a theater critic just before the pandemic hit and Broadway went dark, stalling career before it could even properly launch!
I urged her to return home for the lockdown and stay with me, while we waited out the pandemic together. She used this time to write articles for online publications and even landed an acting gig on Zoom. She also successfully pitched a project to a female producer in Hollywood, who graciously took her under her wing, slowly mentoring her with a promising script.
All of this was great, but she feared her trail-blazing would soon grow cold again, and she was hoping to find additional opportunities or prospects.
Synchronicity is choreographed by a great, pervasive intelligence that lies at the heart of nature, and is manifest in each of us through intuitive knowledge ~ Deepak Chopra
While out walking our dog, I shared a memory from my childhood – a story I never thought to tell her before. When I was a little girl, my family rented the famous novelist and journalist Norman Mailer's house for a two-week vacation in Cape Cod. He owned a stunning place on the water.
Although I was young, I knew who this celebrated writer was and living in his house made a strong impression on me. I mean, the guy won the Pulitzer Prize twice. And more importantly, he had a son, about my age, with blue eyes like Paul Newman's. And I crushed hard on this boy I'd never met, yet wanted to marry!
My daughter enjoyed the story and that was that…or so I thought.
That evening, while eating dinner, I flipped on Gilmore Girls and there was Norman Mailer in the episode! That's kind of odd, I thought. What does this mean? Not sure what to make of it, I put it in the back of mind.
The next night, I visited my mom across the street. Watching TV in her library, I reached for my drink and my eyes locked on the cover of a book I hadn't noticed before. It was a Norman Mailer novel. I kid you not! A second synchronicity. Again, I thought, what do I do with this information? So, I filed it away, yet again.
The next morning, I drank my coffee and read my favorite Astrology magazine, hot off the presses, when I came to an article that mentioned Norman Mailer. All right, already. I get the message!
It was clearly time to act. Norman Mailer may have departed to the pearly gates back in 2007, but the man has children. Nine of them, to be exact. Then I thought, let's see what Michael Mailer, the Paul Newman doppelganger of my girlish dreams, was up to these days.
Don't dismiss the synchronicity of what is happening right now finding its way to your life at just this moment. There are no coincidences in the universe, only convergences of Will, Intent, and Experience ~ Neale Donald Walsch
Turns out, Michael Mailer is now working as a successful, thriving film producer. And he lives in Brooklyn, New York, where my daughter planned to move this summer!
I found his office phone number and spoke to a very nice young lady. I blurted out my entire story: the summer house; my daughter's writing and acting credits; and the synchronicities. I asked if her boss could possibly spare five mins to offer her some advice. And I apologized for my 'verbal diarrhea.'
She replied, "Actually I was really fascinated, and I'll tell Michael you called." Five minutes later, she called me back to inform me that Michael would be calling my daughter that Friday. And he did!
He asked for a sample script from her and he actually read it. His development executive gave her notes, and while their production slate is full right now, they asked her to come in for an interview.
So, once, twice, three times a Mailer! Synchronicities aren't mythical. They are miracles, and very real. Never overlook these magical 'coincidences' when you run, headfirst, into one several times.

About The Author: Tracey

For 11 years, Tracey's predictive practice has taken her down the rabbit hole, where she's amped up her intuitive gifts by mastering new tools that are accurate and cutting edge. She began with Tarot, Numerology, Soul Path Energy Clearing and Natal Astrology, reading for her one-on-one clients in her private practice, at fairs and festivals, and at private parties. Her newest technique, Horary, is popping up on new apps and on social media. Horary is a predictive and magical form of astrology like a psychic reading, with a chart cast for the moment and quickly read by a highly trained practitioner in the art. Tracey currently lives in South Florida, but she maintains a busy practice with clients situated mostly in Los Angeles, NYC, Chicago, Atlanta, and Palm Beach. Past clients she has worked with include a well-known Disney actress, a comic book icon, an Emmy nominee, a luxury hotel entrepreneur, and the founder of Ben and Jerry's ice cream. Tracey was asked to be part of a panel for an exciting new YouTube series sponsored by the prestigious Wessex Astrologer. She is also a successful sci-fi and fantasy author with a new book recently released to rave reviews. You'll have a magical trip when you hop aboard Tracey's exciting Horary bullet train leaving the station at PsychicAccess.com.


This site uses Akismet to reduce spam. Learn how your comment data is processed.