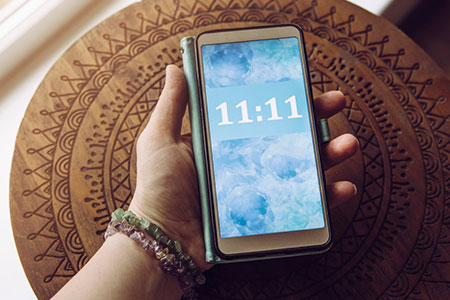 The synchronicity of seeing 11:11 is a common sign of spiritual awakening many people begin to see once they become more metaphysically aware. But what does it mean? Why are you seeing this number all the time? And how does it relate to your spiritual path?
As we awaken into higher consciousness, we begin to see all things more clearly for what they truly are. Many people embark on a spiritual journey because they are seeking greater balance and harmony in their mental health and emotional well-being. But while spirituality can help us heal and find greater peace, there are two sides to this coin.
On the one hand we may be waking up to some brutal truths and particularly challenging realities. The world seems broken right now. Humanity is collectively so painfully out of alignment with our highest good that we are destroying the very Earth that gives us life and supports our very existence!
Once you wake up to everything that is happening in the material world, and the thinly veiled realities of conspiracy, hatred, violence and greed, it can be so disheartening.
On the other hand, once we awaken we are able to fully experience and actually see the magic an wonder in the world around us! We also begin to realize that we are the architects of our own life path and destiny. The gift of free will gives us so much potential to create the life we desire. And we begin to experience the signs and synchronicities which confirm this new sense of empowerment and higher consciousness.
It is exciting and liberating to discover that we were not meant to be 'slaves' to some pre-determined destiny. We now get to consciously and deliberately create our own reality, as a powerful co-creator of the world we live in.
Posted in

Angels, Conscious Creation, Divination, Law of Attraction, Life Design, Manifesting, Metaphysics, Paranormal Phenomena, Spirit Guides, Spirituality
|
Tagged

alignment, angel messages, awakening, awareness, change, co-creation, collective consciousness, consciousness, creating, creation, Creator, deliberate creating, destiny, Divine, divine guidance, divine inspiration, expansion, free will, global awakening, higher consciousness, Law of Attraction, Law of Free Will, Law of Oneness, manifesting, Metaphysics, mysticism, numbers, personal growth, personal responsibility, pre-destination, psychic awareness, reality, responsibility, self-awareness, sign, signals, signs, soul growth, Source, spirit communication, spirit guardians, spirit guidance, Spirit Guides, spirit messages, spiritual awareness, spiritual growth, spiritual insight, spiritual knowledge, spiritual laws, spiritual messages, spiritual path, spiritual truth, spiritual wisdom, Spirituality, symbolism, synchronicity, transformation, truth
|
Leave a comment