nourishment
Published
November 5, 2019
|
By
Cheanne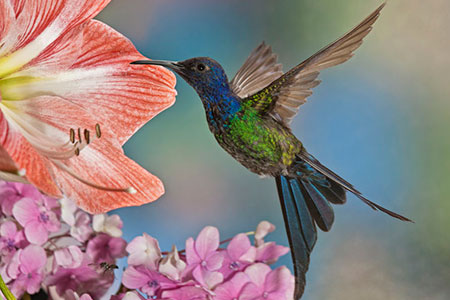 The energy of the hummingbird brings immense wisdom to be shared with us. When he appears it is always such a treat, as I have learnt so much from this amazing bird, including about love and romantic relationships.
When the hummingbird comes into my life asking to be painted, my vision blurs. I can then only see my artwork clearly and the brush strokes needed to finish his painting. I have learned that sometimes our own vision needs to become blurred, so that what we are seeking can be shown to us.
I have also learned that the 'narrowed vision' of hummingbird is vital to the health and vitality of our relationships, especially those of a romantic nature. When we keep our focus firmly on the present moment and the feelings we share with our partner in this moment, rather than on the negative thoughts, concerns or expectations, we blur out the noise.
This allows for a breaking away from the old energy patterns and lack consciousness that too often govern the roles played out in our relationships. It allows for a simplicity to arise in the communion and communication with our partner.
The hummingbird gathers nectar from the flower through its power of focus and natural instincts. It trusts its own innate nature to choose the flowers that will nourish and feed it. Finding trust in our own feelings and intuition is important, so that our relationships are nourished and allowed to blossom from within.
Posted in

Divination, Healing, Intuition, Lifestyle, Love & Relationships, Meditation, Psychic Phenomena, Self-Help, Spirituality
|
Tagged

animal medicine, animals, aura, birds, compassion, dating, energy field, expansion, feelings, focus, freedom, friends, fulfillment, growth, happiness, Healing, inspiration, intimacy, Intuition, joy, kindness, lack consciousness, love, Meditation, nature, negative energy, nourishment, nurturing, opinions, patterns, power animal, present, recreation, reflection, relationship, relatives, romance, sacred, self-awareness, signs, silence, solitude, spiritual messages, thoughts, totem, trust, wisdom
|
Leave a comment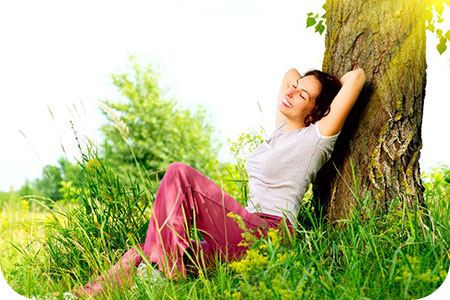 In our busy world we tend to take nature for granted. Consider for just a moment all the things flowers, plants and trees really do for humanity. They sustain life all around the world. Plants produce food and oxygen for many of the largest animals around the world, as well as for humans. Plants are also used for healing.
Unfortunately, modern humanity demands that things grow faster and produce better crops, leading us to alter plants in such a way that they might no longer be as healthy as they once were.
Just by watching the trees, one can predict the weather. We sometimes have an abundance of acorns from the oak trees here in Maine. It is said to be a sign of a snowy winter. Most acorns mature in late summer and begin falling from the trees in September or October. It's a great time for the squirrels to collect them, and become fat and round before the winter.
In Maine the winter tends to be very long and it's easy to become a somewhat down and sad. So, my friend and I decided earlier this year to take a ride on such a gray day to the local greenhouse that is open all winter. Plants, flowers, trees and beautiful landscapes can change one's state of mind and put a smile on your face!
Posted in

Alternative Medicine, Healing, Lifestyle, Meditation, Self-Help, Shamanism, Spirituality
|
Tagged

animals, beauty, bliss, depression, energy medicine, flowers and plants, food, Gaia, happiness, Healing, holistic health, inspiration, joy, Lifestyle, Meditation, mediumship reading, nature, nourishment, nurturing, recreation, relaxation, sacred space, season, signs, spirit, spirit communication, spirit contact, spiritual messages, spiritual practice, Spirituality, trees, weather, well-being, wellness
|
Leave a comment