Blessing Your Food And Drink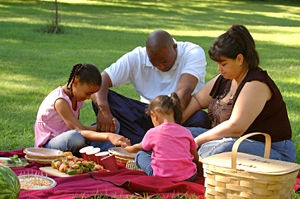 I always think a cup of coffee or a sandwich tastes special when someone else prepared it. Perhaps it was made with good intention?
If a meal or a beverage is prepared with love, the very intention behind the preparation has to be more beneficial to our system and to our sense of well-being. This idea has often occurred to me over the years and there was confirmation of this in various Buddhist articles I happened to stumble across.
Just like our body, mind and spirit, food is made of energy. Energy is further transmitted by touch, and good or bad energy can be transmitted by contact. Even without speaking, subtle invisible thought-forms can also pass from one person to another when one person prepares food and another eats it.
So, as your sensitivity increases with your spiritual growth, blessing your food will be especially important if you consume foodstuff or beverages prepared by strangers. If you just think about how many people are involved in negative pursuits, doing a blessing only makes sense. Low vibration foodstuffs also originate where they've been genetically altered, not to mention livestock reared in terrible conditions.
Creator, Sustainer and Life-giver, Bless this food to our use, and us to your service, make us grateful for all your mercies, and mindful of the needs of others. Amen ~ Unknown
It is said that blessing food which originated from a negative environment can nullify the negative energies which get in the way of nourishing our bodies. Blessing our food and drink is important when we wish to grow spiritually. Blessing our food and drink also makes us more aware of what we are taking into our bodies.
Lightworkers aiming to raise their vibration, and to have a sense of well-being at the same time, need to do everything in their power to eliminate any toxins from the body.
You can create your own blessing, done either quietly or out loud. I always feel we offer dignity to the very essence of the food or drink, but they will not contain the same blessing if you are in a negative frame of mind.
An example of a blessing could go something like this:
"Bless this food and drink of which I am about to partake. Make me grateful for my daily food and aware of the needs of others less fortunate than myself. Amen"
You can start your blessing by calling upon God or any deity or spiritual entity that is relevant to your personal belief system.
About The Author: Shani

Shani is a qualified practitioner in Reiki, aromatherapy, reflexology, body spin, and animal telepathy who received psychic development training at the Arthur Findlay College of Psychic Research in England. A published writer, her articles and predictions have appeared in several respected magazines and on psychic websites, and she has read for many celebrities and even heads of state in Africa. Because of her empathy, people find it easy to connect with her. Every month, she attends a psychic circle and the information that comes through from Spirit never ceases to amaze everyone present. Though she was born in London, Shani has traveled the globe and has studied the art of African Mysticism, bringing her unique flavor to those seeking her incredible talents. What she has taken away from her many travels abroad, is that there is always a sort of longing clients have to be connected to the source of their being. Get a reading with Shani at PsychicAccess.com.


One Response to Blessing Your Food And Drink