Mystical Messages From The Rainbow Spectrum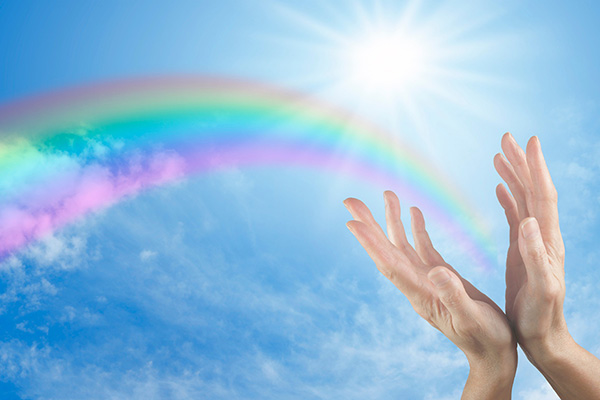 On a recent countryside walk the most beautiful, arc-shaped rainbow appeared across the valley. There was something extraordinary about this particular rainbow, because it brought back fond memories of beloved pets who recently crossed over Rainbow Bridge, as well as departed loved ones whom I have lost over the years.
When I got back home, I felt prompted to honor the memory of all the animals who have been a part of my life over the years. They have mainly been rescues, except for a few, as well as animals I had formed a bond with through their owners, and also dogs I have sponsored in different parts of the world.
The colors of the rainbow convey profound spirit messages from the souls of pets and people who have crossed over. It is of mystical significance for me. A beautiful rainbow after many hours, or even days of rain truly is a joy to behold. It inspires hope, optimism, and child-like happiness, particularly if one has been going through a doubtful, or even despairing time in your life.
In modern yogic, energy healing, and other new age spiritual practices the colors of the rainbow spectrum have become associated with the colors of the seven primary chakras. This concept was first introduced in the 1970's by spiritual author Christopher Hills in his groundbreaking book Nuclear Evolution: Discovery of the Rainbow Body.
I recall one of my many mentors saying during an Aura-Soma® course, "You are all rainbows." Aura-Soma is a divination and color therapy system based on the color spectrum. It was devised by British pharmacist and chiropodist Vicky Wall to harness the vibrational energies of nature for improved well-being and vitality.
In Aura-Soma we have a rainbow bridge that allows the light to connect to the body, to allow our life-force energy to flow ~ Alison Effting 
Aura-Soma® is all about color and light. Each color of the rainbow spectrum is essentially a lightwave with a particular energy frequency or vibration. The separate rainbow colors can therefore convey a specific message for us whenever we see a rainbow. We usually resonate most with one particular color in the rainbow at a given time, depending on the message or confirmation we need from spirit at that moment.
RED encourages us to connect with our passion and inner strength and to remind us that although we are on a spiritual journey, we are in physical form and that we are sensual beings. It also reminds us that it is important to remain grounded and nurture ourselves.
ORANGE instills a sense of optimism, positivity and warmth, and inspires us to celebrate life. It promotes a sense of comfort, gratitude, and a feeling that all is well, because we have everything we need at that moment in time.
YELLOW prompts us to improve our communication skills courageously, should we have withheld our voice in the past. It invites vitality and enlightenment, and encourages us to focus on our true desires.
GREEN symbolizes health and well-being. When the green stand out in your rainbow, you are also making great strides spiritually. It further signifies good luck, both personally and financially. It is nurturing and suggests vivacity and fertility.
BLUE confirms that your intuition is currently razor sharp. It relates to higher consciousness and all things spiritual. Its energy is compassionate and represents honor, fidelity, integrity, and justice. It is also about wisdom and tranquility (depending on the hue of blue).
INDIGO indicates clarity in goals and purpose. You know exactly what new intentions to set, and your thought process is clear and flows easily. Your third eye is becoming more open and your connection to the spirit realm is deepening. You are experiencing increased insight and wisdom. Trust that all is working out according to a deeper plan. Synchronicities and pathways open up enabling you to follow your healing or spiritual path. Ideas flow from other realms. You feel inspired and your creativity soars to an all new level.

About The Author: Shani

Shani is a qualified practitioner in Reiki, aromatherapy, reflexology, body spin, and animal telepathy who received psychic development training at the Arthur Findlay College of Psychic Research in England. A published writer, her articles and predictions have appeared in several respected magazines and on psychic websites, and she has read for many celebrities and even heads of state in Africa. Because of her empathy, people find it easy to connect with her. Every month, she attends a psychic circle and the information that comes through from Spirit never ceases to amaze everyone present. Though she was born in London, Shani has traveled the globe and has studied the art of African Mysticism, bringing her unique flavor to those seeking her incredible talents. What she has taken away from her many travels abroad, is that there is always a sort of longing clients have to be connected to the source of their being. Get a reading with Shani at PsychicAccess.com.


This site uses Akismet to reduce spam. Learn how your comment data is processed.