Communicating With Your Pets In The Spirit Realm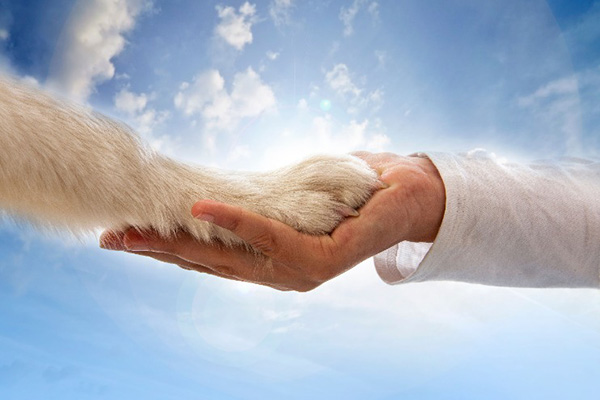 It is known among my friends and clients that have had certain very challenging life experiences, including former struggles with addiction and sobriety. But I can honestly say, the most painful was a traumatic event just a few years ago, when on a walk along a familiar path two of my dogs chased a hare and were never seen again.
My husband and I did everything in our power to locate them and used every possible way to get the message out that they had gone missing. We even offered a substantial reward for whoever could help us find them. We put up posters in a 50-mile radius and walked day in and day out talking to everyone who cared to listen. My husband even purchased an electric mountain bike to get to areas we might not otherwise have been able to access.
The kindness we found in our community was overwhelming and there were endless phone calls and concerned friends and neighbors doing searches because they wanted to help. Nobody seemed to care much about the potential reward; everyone just wanted to help. Out of all of the leads we received, there were only two scam calls from individuals who were only after the reward, but I was quickly able to suss them out on the phone.
Our dogs' names were Amber and Brutus. Two days after their disappearance, and still having hope of them coming home, I felt Amber communicate with me. "This was meant to happen," she said. The telepathic message was vivid but didn't help in terms of knowing if they were still alive.
Last week, I asked for a sign from the dogs. Looking at their pet booklets, there would be a good chance that, even if Amber had survived, she may have passed in the meantime due to old age.
When I look into the eyes of an animal, I do not see an animal. I see a living being. I see a friend. I feel a soul ~ A.D. Williams
As for Brutus, we never managed to gain his trust. He was young, but had obviously been abused as a young pup, so gaining his confidence was still a work in progress at the time of his disappearance. But he seemed happy, and loved his meals and the other dogs, especially Amber. It was as if they had 'eloped' together.
I don't watch much TV, but something recently prompted me to subscribe to a streaming channel on a free trial. When I scrolled through the programmes, I found my sign! The first series that popped up on the screen is called Amber, and it is about a missing child. The series so far hasn't revealed whether Amber is ultimately found. Amber's family still awaits news – some are hopeful, others not so much.
The past few days I could also not stop thinking of my dog Mandy, who passed away earlier this year. The memories were joyful and kept coming up vividly, which soon made me realize that she must be trying to communicate with me.
This prompted me to check my journal to see how long it has been since I had to make the heart-wrenching decision to let her go and end her suffering. The journal entry I found simply reads: Mandy went home today. It was eight months ago.
Sometimes losing a pet is more painful than losing a human because in the case of the pet, you were not pretending to love it ~ Amy Sedaris
Experiencing all these happy memories of her now, for the first time since her passing, I realized she had finally crossed over and she was okay. In fact, I felt her thriving on the Other Side.
This peaceful reminded what I had learned at the animal communication courses I attended over the years about communicating with our pets on both sides of the veil. Can we communicate with our dearly departed pets? Absolutely! All it takes is setting the intention, expressing the desire, making the wish.
Communicate from a feeling of pure love for your pets and they will receive the messages. This spiritual process is unlocked when we open our heart; it kick starts the process. Sometimes your departed pet will receive the message directly and we literally 'feel' this, as well as being aware that we have a telepathic dialogue with them. Alternatively, guiding spirits also act as messengers on the other side of the veil and we will 'sense' communication being delivered back to us via those messenger spirits.
To communicate with your pets in the spirit realm, sit down quietly with full attention and set the intention that you wish to connect with a certain animal, or animals. This sends an energy signal to the intended and you may even feel them draw close alongside you. Holding a belonging of theirs – be it a toy, collar, bowl, blanket – is also helpful. You can also use a photo of them next to a lit candle.
If there are no dogs in Heaven, then when I die I want to go where they went ~ Will Rogers
Begin with sending a short mental message. Keep it simple, as you may doubt yourself or the process if you try and project an entire dialogue. Begin by projecting memories of cherished moments as you visually and emotionally recall it in your mind's eye. The animal will feel the love from the emotion you are projecting. The love we showed to an animal this side of the veil, helps them to continue evolving on that side. It is an energy bond that is never lost or broken, no matter how much time has passed.
Be persistent, even if you feel awkward at first, or even a little sad. You will eventually feel your pet energetically bringing you comfort. They want you to heal your grief and become happy again. Thank them for hearing you and once you feel stronger in forging that link, perhaps ask them for a sign they were around! Trust what you perceive, hear, see and dream of in terms of the sign being real.
Most of all, always remember that you will be reunited with all your beloved pets one day, when it is your time to depart this life.

About The Author: Shani

Shani is a qualified practitioner in Reiki, aromatherapy, reflexology, body spin, and animal telepathy who received psychic development training at the Arthur Findlay College of Psychic Research in England. A published writer, her articles and predictions have appeared in several respected magazines and on psychic websites, and she has read for many celebrities and even heads of state in Africa. Because of her empathy, people find it easy to connect with her. Every month, she attends a psychic circle and the information that comes through from Spirit never ceases to amaze everyone present. Though she was born in London, Shani has traveled the globe and has studied the art of African Mysticism, bringing her unique flavor to those seeking her incredible talents. What she has taken away from her many travels abroad, is that there is always a sort of longing clients have to be connected to the source of their being. Get a reading with Shani at PsychicAccess.com.


This site uses Akismet to reduce spam. Learn how your comment data is processed.