Pet Mediumship And Animal Communication
Published
September 24, 2019
|
By
Cheanne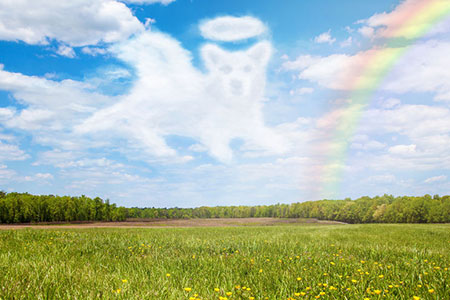 Some of the most beautiful messages I've received in my capacity as a medium, are those from departed pets. They come through with messages of love, thanks, and reassurance that they still walk beside their human companions in spirit. They also offer words of wisdom and insight into the life of their owners, as seen from their perspective.
It is profound to feel and experience the ongoing love of a pet from the other side. Grieving the loss of a pet, is a grief that is often unacknowledged or understood. Yet it is real, and important to share and move through.
It has been two years since we said goodbye to our beloved family dog, Lucy. She passed just before her 17th birthday, and I can never put into words how much love and joy she brought us. By sharing how she assisted me in communicating with her, while she was alive, as well as after her passing, it is my hope that her story may assist you in feeling a deeper connection to your own pets on the Other Side.
Lucy's story all began when we went shopping, just before Christmas of 1999. Our intention for the trip was to buy storage boxes for a pending move. Instead, we returned home with a puppy in a box! She bounded into our lives and hearts that day.
Until one has loved an animal, a part of one's soul remains unawakened ~ Anatole France
For a little dog she had such a full life. Where we went, she went. From boats to planes, she was always on our heels. She even travelled abroad with us, when we lived in Dubai. She reminded us, that as long as we were together, life was one big tail-wagging adventure!
Lucy was also my willing guinea pig in honing my animal communication skills. She excelled at it and was my patient teacher. Learning to communicate with her in this way was a blessing, especially when it was time to assist her in crossing over. I often still cry when I think of that day and the choice we had to make to support her in crossing the rainbow bridge. Even though she had given me a couple of days to prepare for her departure, it was still so difficult.
Lucy made her presence felt the night she passed. As we lit a candle to honor her, we could feel her energy enter our home. It was palpable to all of us. She was larger than life and she felt once again joyful. I could feel her gratitude for the fact that she was now pain free. Even though we felt our grief, we could feel her joy and love for us.
Lucy used to say to me, "Don't ever be sad for me." Leading up to her passing, I would ask other communicators to check in with Lucy, to validated the messages I was receiving from her. I wanted to ensure I wasn't prolonging her pain. She would always say, "It is not my time. I have important work to still do, and I am needed."
If there is a heaven, it's certain our animals are to be there. Their lives become so interwoven with our own, it would take more than an archangel to detangle them ~ Pam Brown
I've been able to connect with her many times since her passing, and this is her message on letting go:
I mattered, my presence was important, it was felt, it was valuable. Therefore my passing meant something too.
So, for those who mourn their beloved pets, grieve them. Talk to them, write to them after they pass. Reflect on the things they brought to your life. This acknowledgement holds the light of their love as you move through the grief of their passing. 
Just know, they are never far away. They feel your love, your tears and even in spirit they still consider themselves to be a part of your life. Your soul family. After all, we come to remind you that we are all one.
To help me to move through my grief I painted Lucy, and I found the process deeply healing. It helped me to bridge through my sadness and get to a point where I felt her presence on regular basis.
I understand that painting or sketching may not be your thing, but you may like to create an album to honor your pet. However big or small, it's important to say your goodbyes and thank yous for their presence on this side of the rainbow bridge.
Animals bring to us many gifts and messages. Each animal holds its own strength and characteristics. They show us in their adaptability how to navigate our own paths. Dogs in particular teach us about the joy of connection, and the power of loyalty and unconditional love.
If you have a dog by your side today, reach down and give it a pat for me.
Guidelines For Animal Communication
Animal communication is a process of the heart. It comes from a centered place of stillness and an intent to see your companion pet as an equal, although it is in a form that is different to your own.
Our pets are always open to receiving telepathic messages. It is our resistance that we must work on with daily practice, similar to strengthening a muscle, in order to communicate with our pets.
Set regular time aside to sit in companionship together. Outside in the garden or park enhances this process as you work with the elements of nature which helps to ground your energy body.
Open up an invitation to your pet to connect with them telepathically by sending to them words and pictures in your mind of this process. Ask to be shown in pictures, words or feelings what they are thinking.
They communicate to use in return in a number of ways. Pay attention to their quirky habits and a change that may indicate to you their response. Allow there to be space or time from the initial sending of your thoughts so that you can notice and acknowledge their response.
They will find a way to communicate with you. Over time you will find the words flow quite spontaneously into your mind and often when you least expect.
Being relaxed is the key, along with seeing your pet as having the ability to communicate with you in this way. Make it a daily habit to visually send mental images to your pet. Most importantly, enjoy the process and make it fun.

About The Author: Cheanne

Cheanne's Divine gifts came to her in her early 20's, when this young Australian accountant felt suddenly compelled to take a creative art class. On the blank canvas, she saw a face that moved her greatly, and she painted it. The brush took on a life of its own, as she painted the divine presence of Buddha. We are not alone, she suddenly knew, and that feeling has stayed with her ever since! Messages and healing have come through her art work and from her Intuitive sessions that connect clients with spiritual guidance to navigate through life's changes and challenges. She also helps clients tap into and experience their own unique gifts. Since 2013, Cheanne's helped business owners achieve their creative visions, she's provided clients with portraits of their Angels and Guides, and she's channeled messages at New Age Festivals, Expos, from her local practice room, home studio, via phone and internet, and through the dozens of group workshops and intimate retreats she's provided. Her unconditional, loving support has touched thousands, and acts as a bridge to connect clients with a powerful, Divine Guidance. You can find this unique and wonderfully talented Intuitive at PsychicAccess.com.


Posted in

Afterlife, Mediumship, Paranormal Phenomena, Pet Psychics
|
Tagged

animal communication, animals, art, bereaved, clairvoyance, communication, death, dog whisperer, dogs, grief, grounding, habits, loss, medium, mediumship, mediumship reading, mourning, pet psychic, pets, sadness, spirit communication, spirit contact, spiritism, spiritual messages, telepathy, the other side, unconditional love, validation
One Response to Pet Mediumship And Animal Communication
This site uses Akismet to reduce spam. Learn how your comment data is processed.