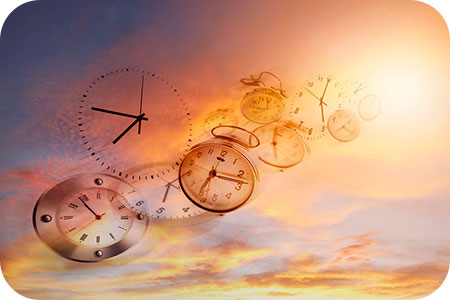 I've been saying for years that I feel as though time is speeding up. I remember, as a very young child, excited to go on an outing with my grandparents, feeling as though that 'magic hour' when we would be leaving, would never arrive.
I also remember my grandmother telling me, "Don't be in any hurry to grow up. Time speeds up as you get older. Before you know it, years will fly by like weeks." I've always remembered her words and I try to take her advice into consideration when contemplating the idea of time literally speeding up.
But, I still can't wrap my head around what feels to me as 'lost time.' I feel as though I am somehow being cheated out of my time here on Earth.
I look around and I see people my age who don't appear to look in their mid 40's. And, when looking at old photos of my parents, and how much older they looked at my age. I have to wonder if time is really speeding up and causing us not to age as rapidly as our parents did?  But, in reality the appearance of aging could be due to environmental factors. Our lives may not be anywhere near as difficult as our forefathers lives were.